Access to play the world's most popular sport is limited

In order for soccer players to participate in a game,
they must first: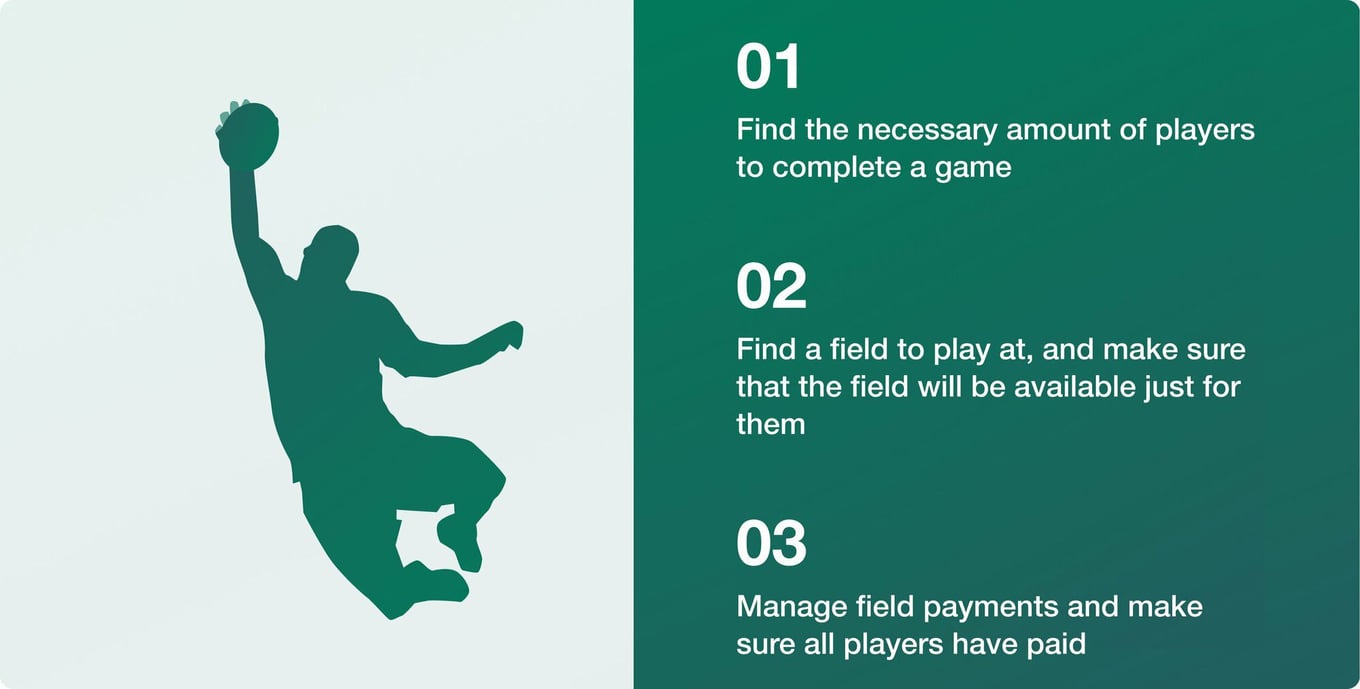 We believe that going out and playing The Beautiful Game should be as easy as ordering an Uber driver.
Fútbol on Demand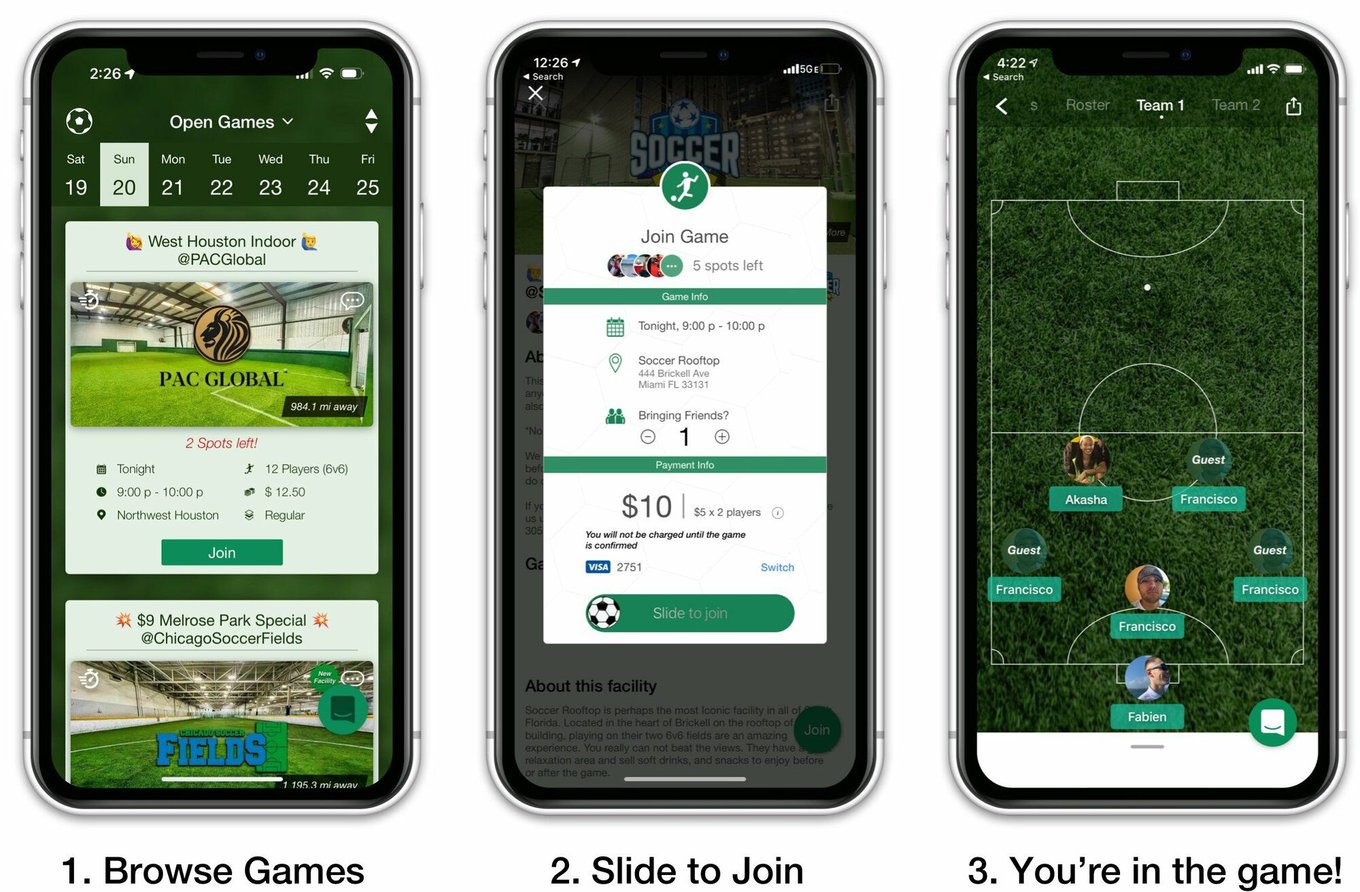 The Plei App allows for anyone to join a soccer game in their city. We host games for all skill levels -- everyone is welcome!
We've built technology that allows users to play The Beautiful Game on their terms, on demand.
The Plei App handles all the logistics of the game, ensuring every match is an exciting experience.
Sign up, step onto the field, and let the fun begin.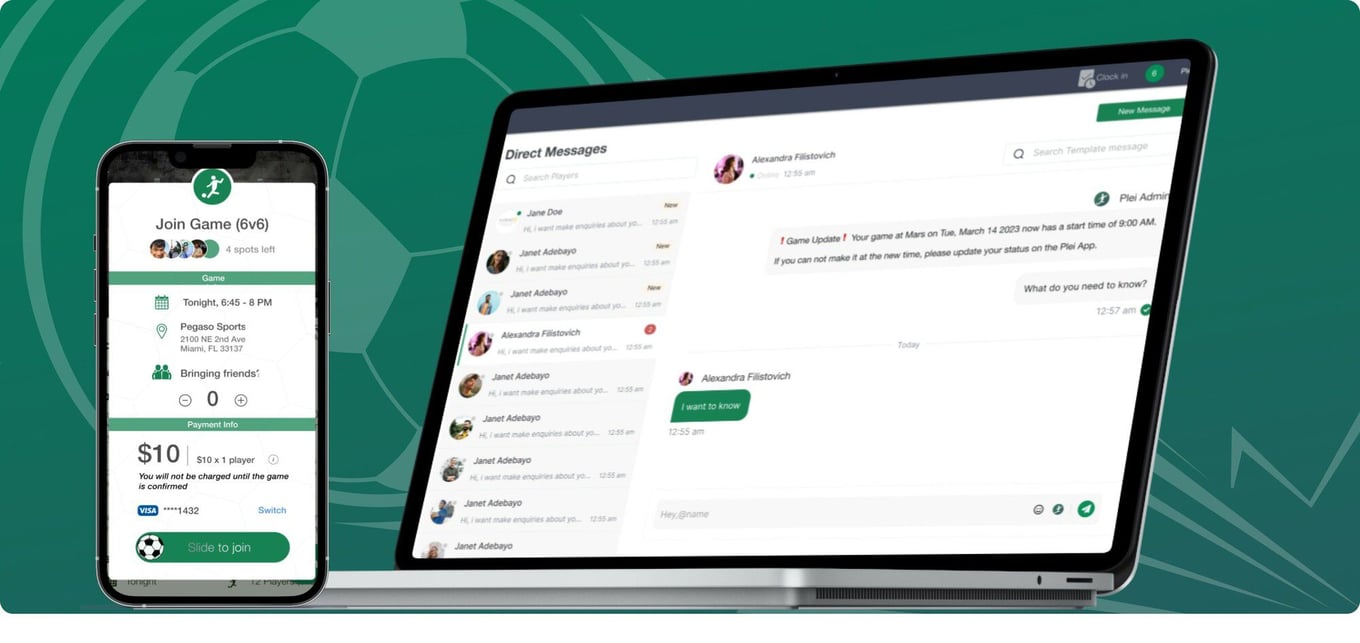 Plei App and Plei System
Plei App - for players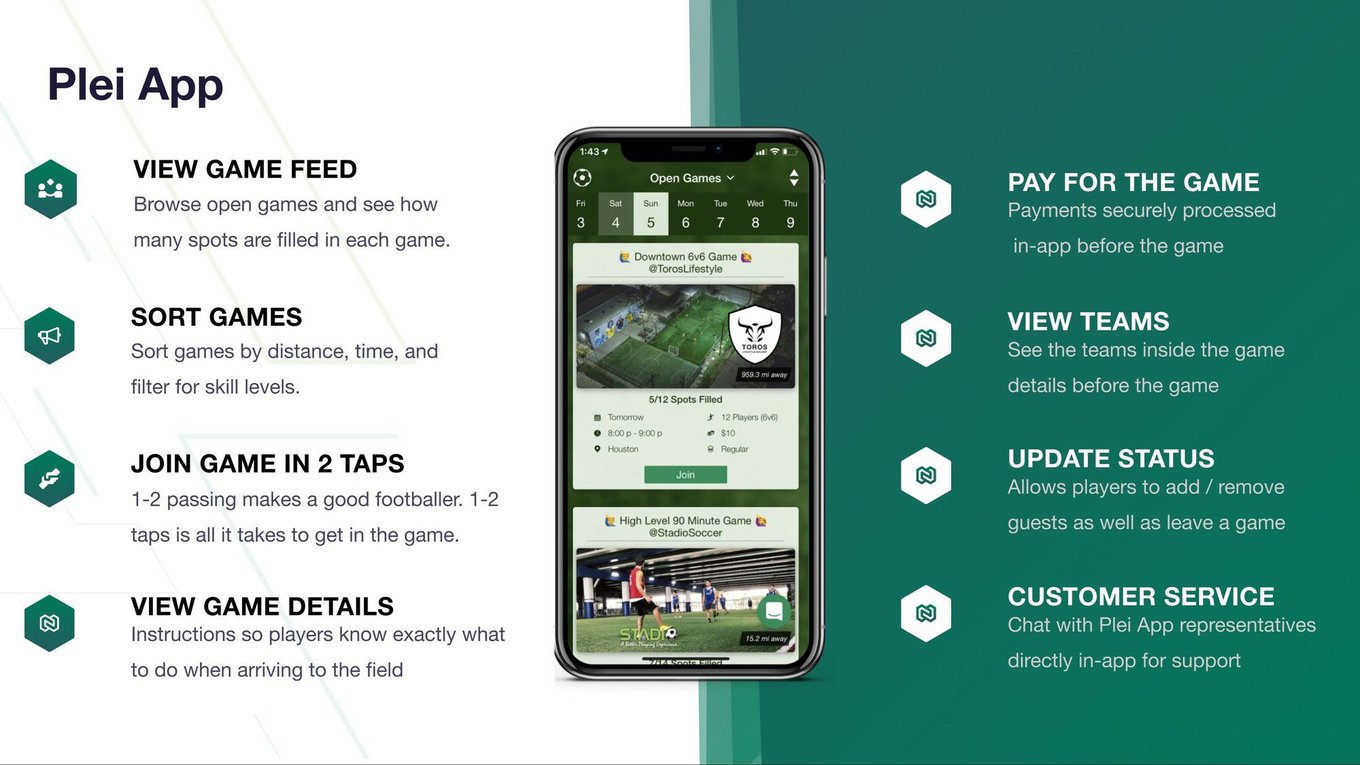 With the Plei App, players are two taps away from the Beautiful Game
---
The Plei System - SaaS platform for sports facilities


We believe in creating strong relationships with our partner facilities. We strive to be a complete solution for sports facilities, which is where the Plei System comes in.
Our management system has a variety of features that makes managing a sports facility a breeze.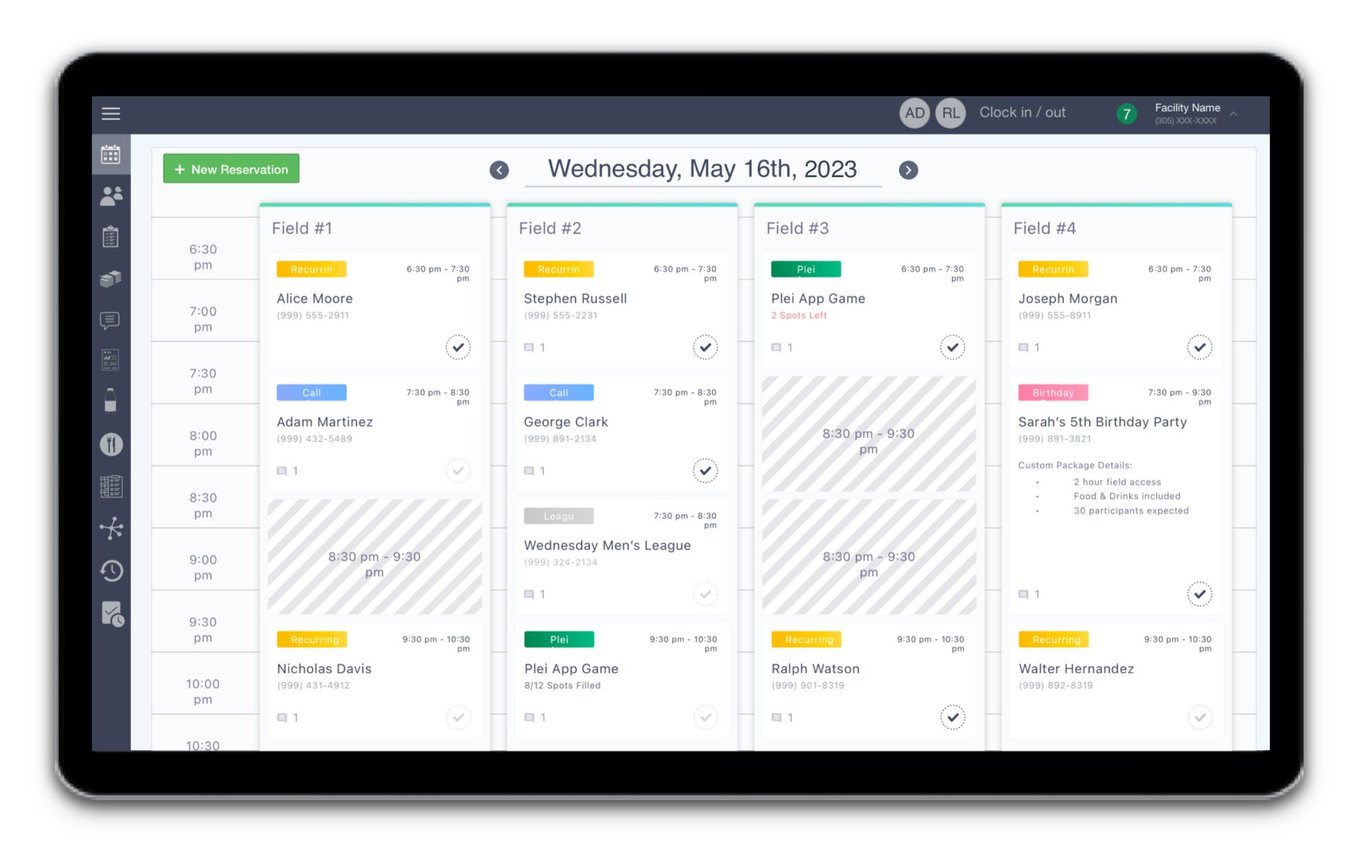 One feature is our booking platform, where facilities can manage all day-to-day bookings. This gives us insight into their field availability, where we then host Plei App games on slots that would've gone unreserved, creating a win-win scenario for all.
$4.5M projected
revenue in 2023
130+ Partner Facilities across 15 U.S. Cities
3,000+ Games hosted per month
8% month-over-month growth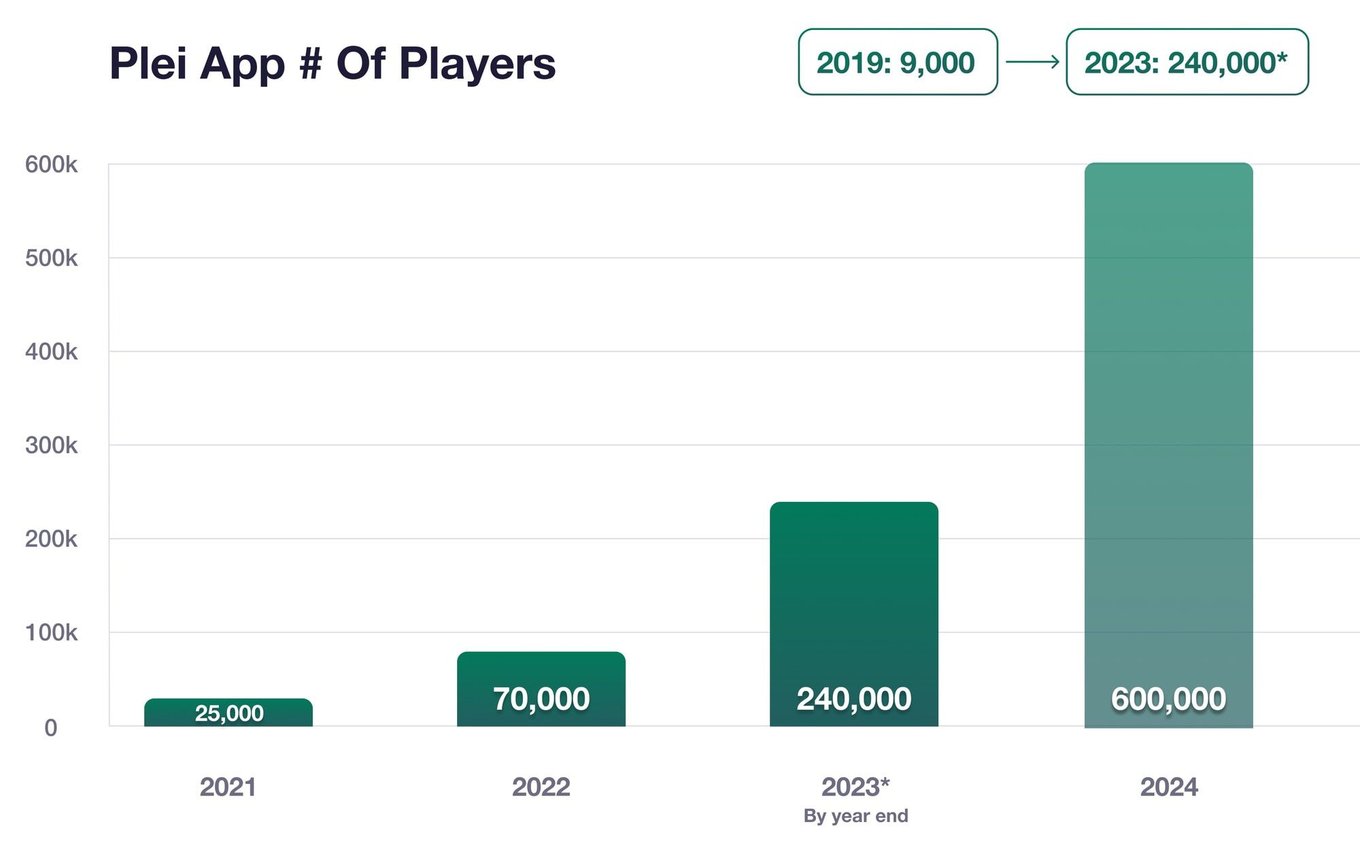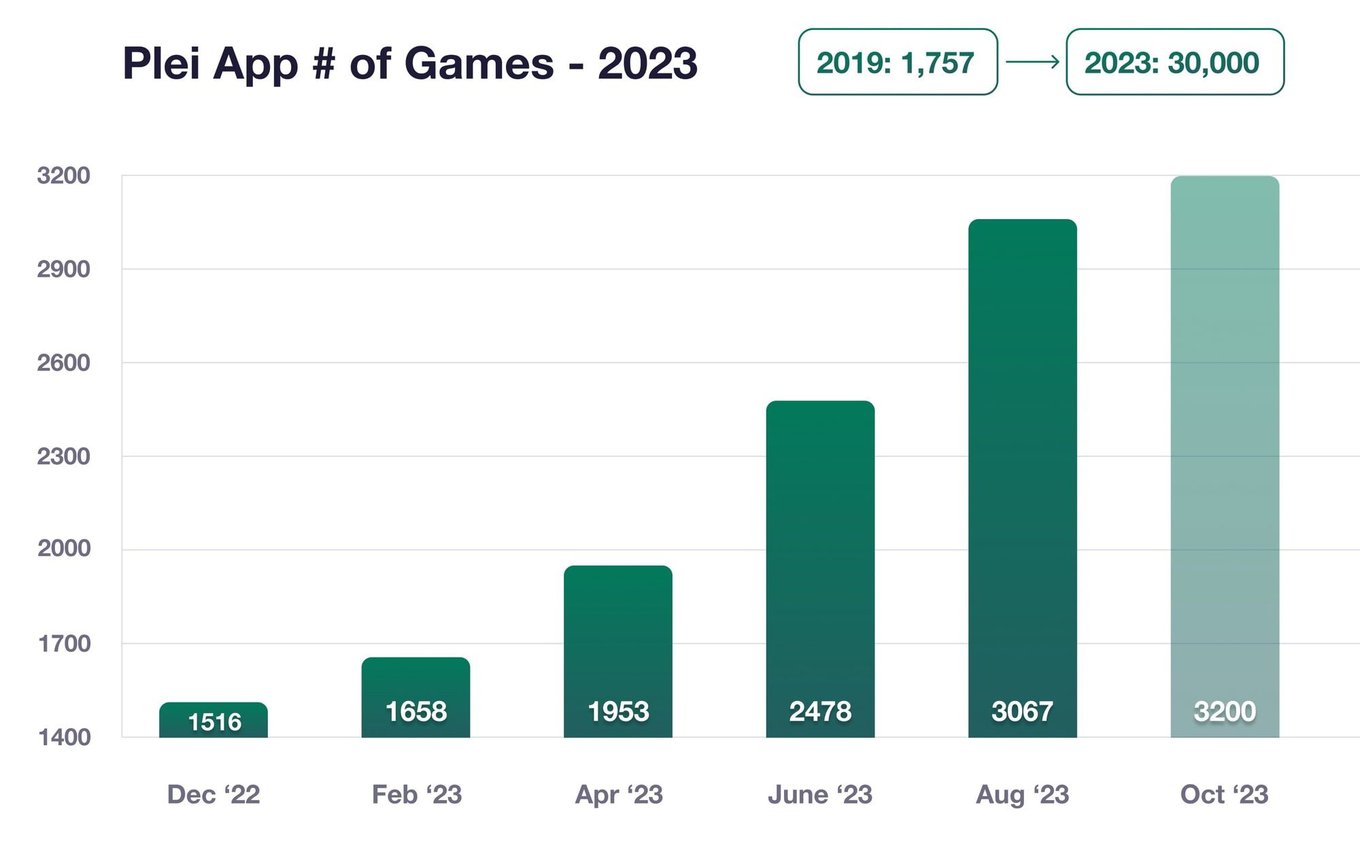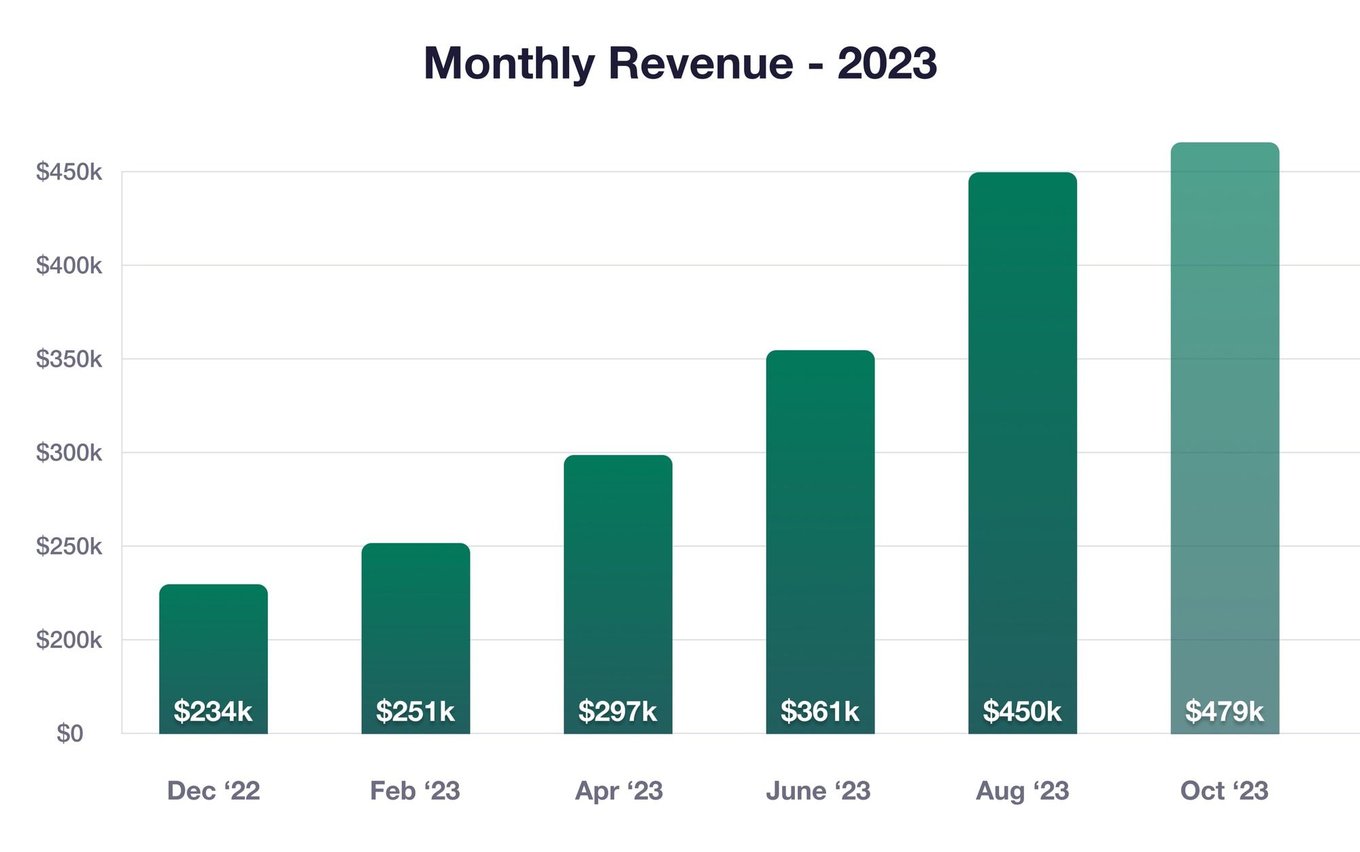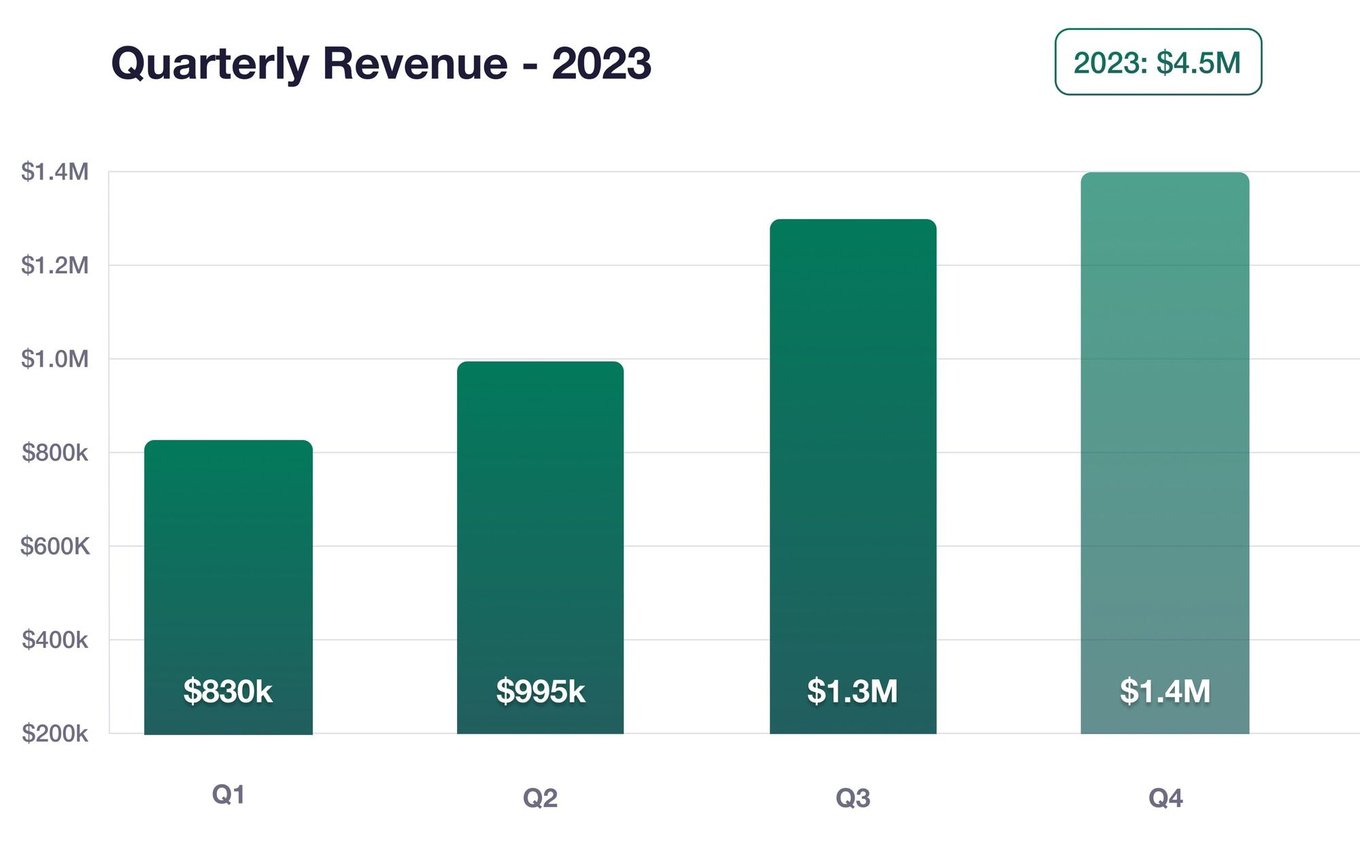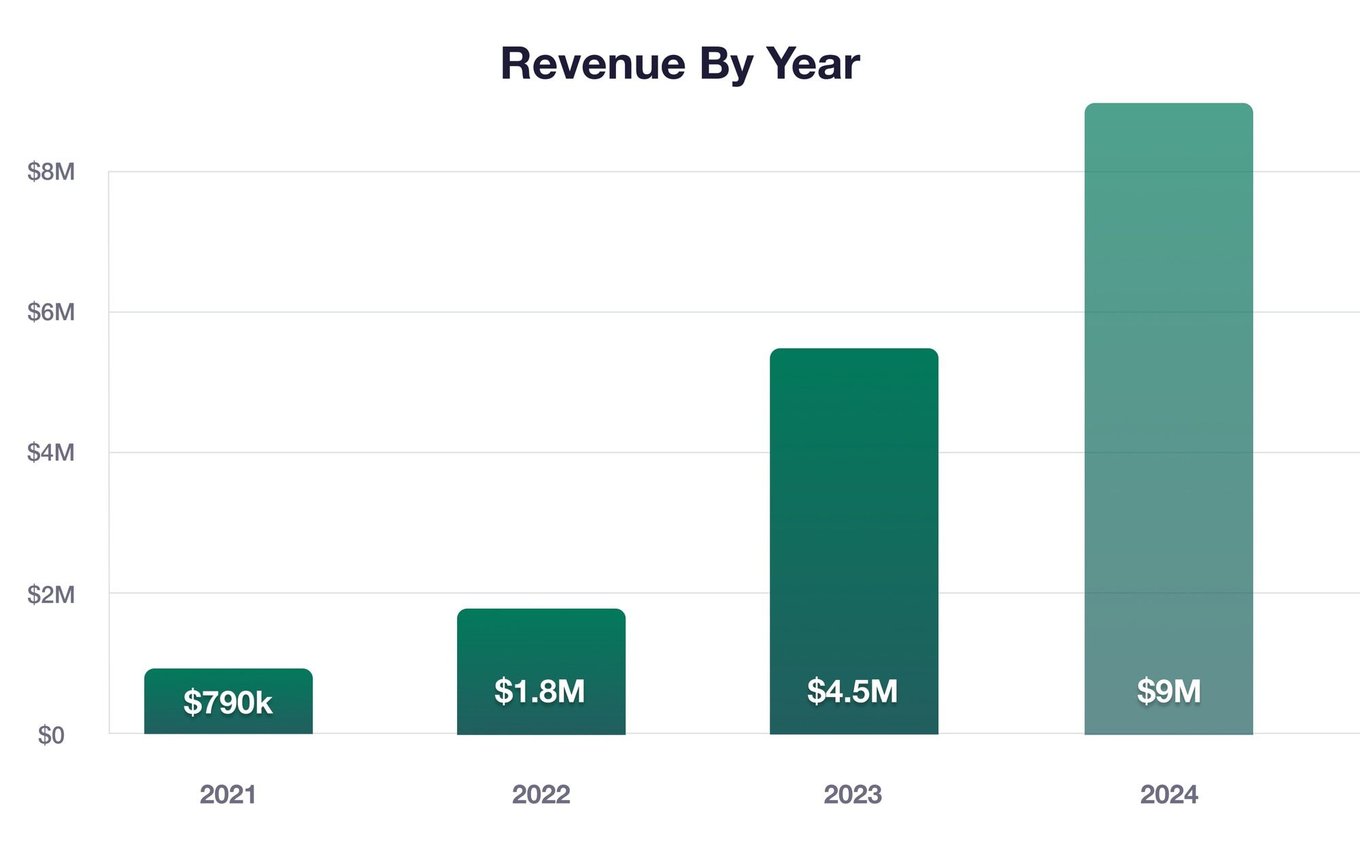 500+ Soccer Fields
across 15 U.S. Markets


Example of the value we bring to our partner facilities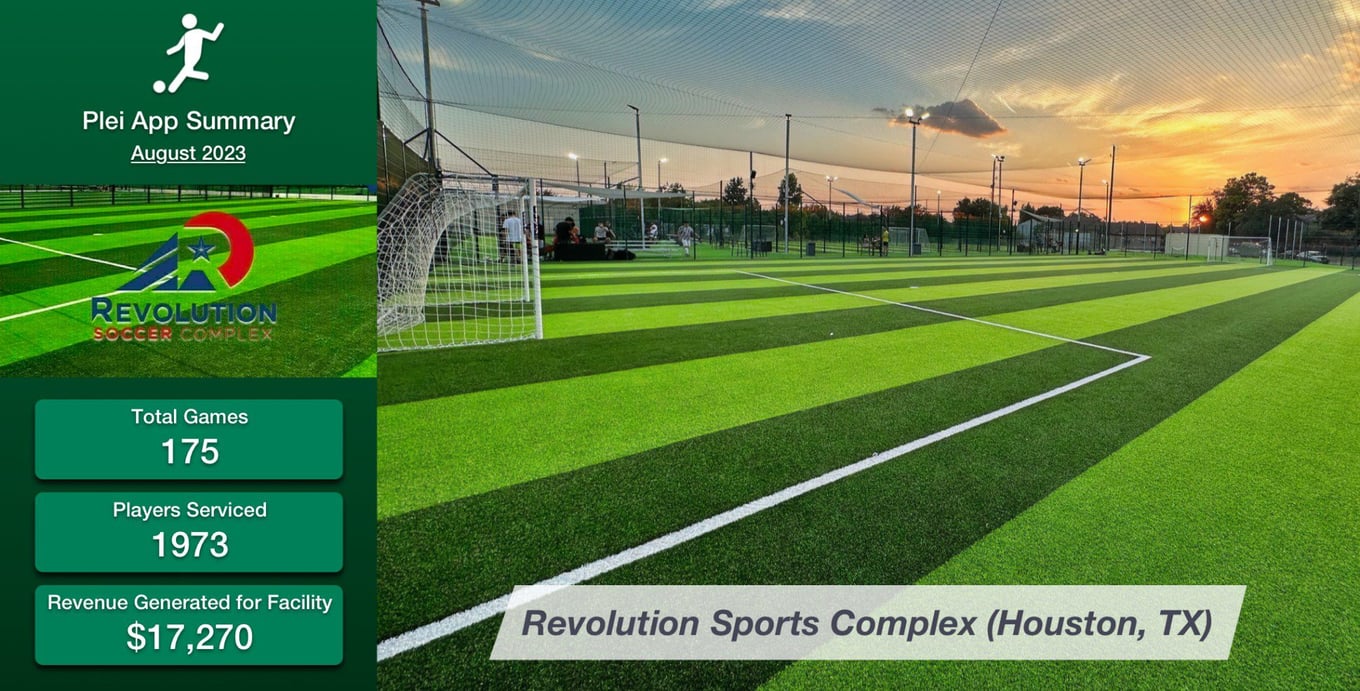 That's $17,000+ in extra revenue generated in just 1 month for our partner facility!
What Players are Saying

---
Everything we do is for one common goal: to make connecting with others and playing soccer a hassle-free experience. We truly believe that going out and playing soccer should be as easy as ordering an Uber driver. One way we accomplish this is through our technology.
The other is through our customer service.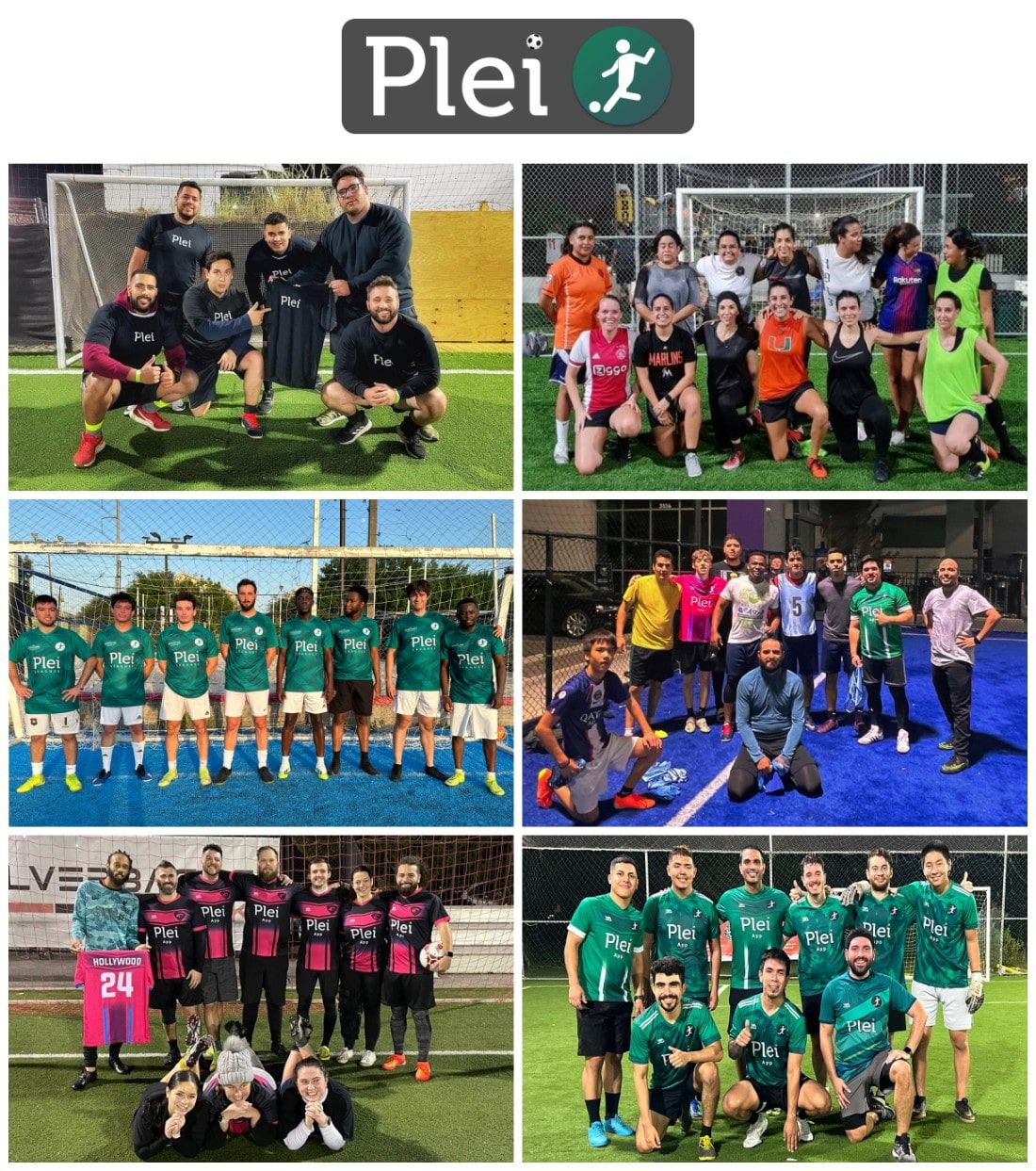 We strive to treat each partner facility and soccer player the same way we would treat a family member: with care, respect and compassion. We listen to the feedback of our customers and work tirelessly to improve their experience. We want anyone who interacts with Plei to be wow'd not only by our product but with our service as well.

We are obsessed with putting our customers first — which is why we invest so much time and energy into the customer experience. This approach has not only built proven brand loyalty, but most importantly, trust.
This is the Game That Brings Us Together
Worldwide market opportunities
—
US market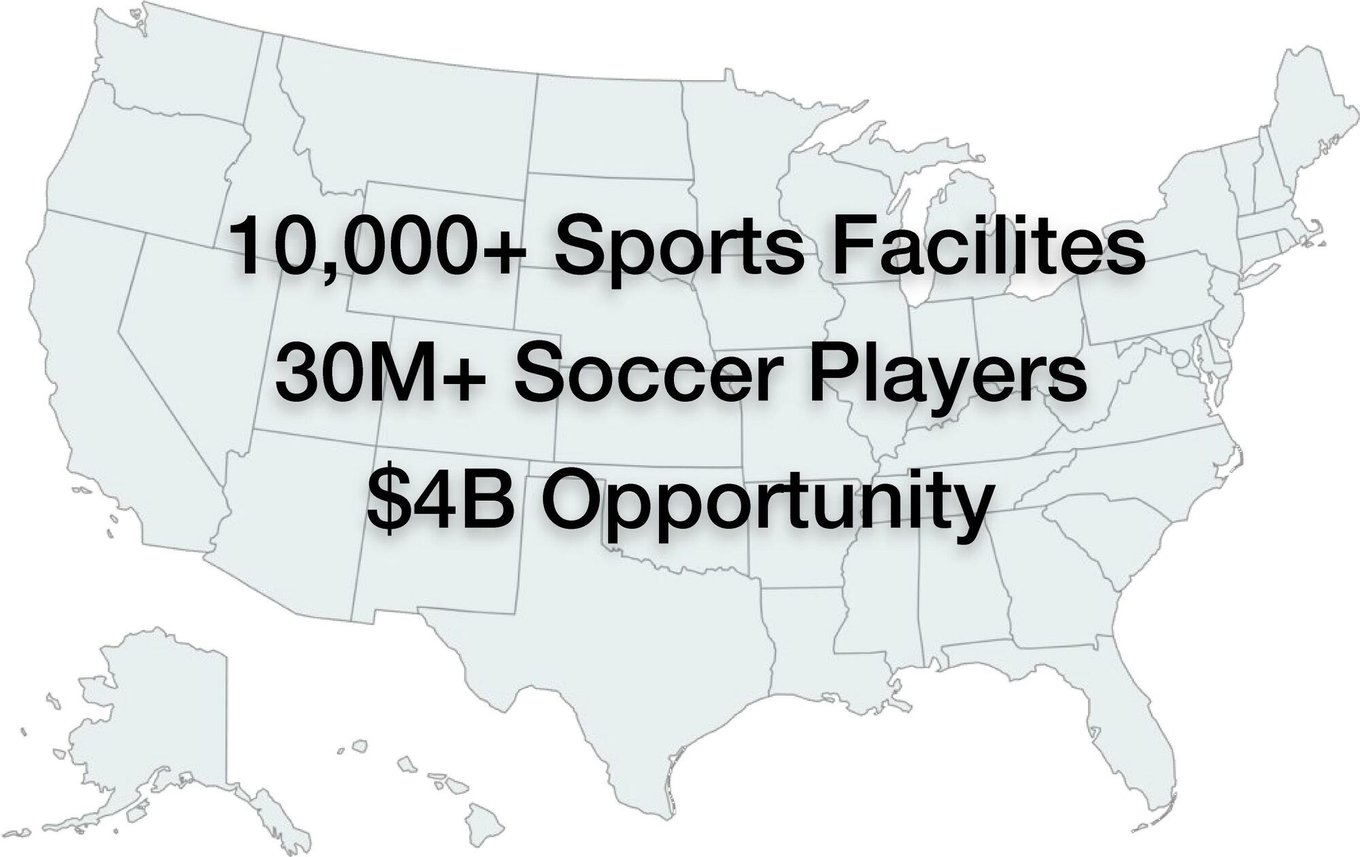 —
Worldwide (excluding US)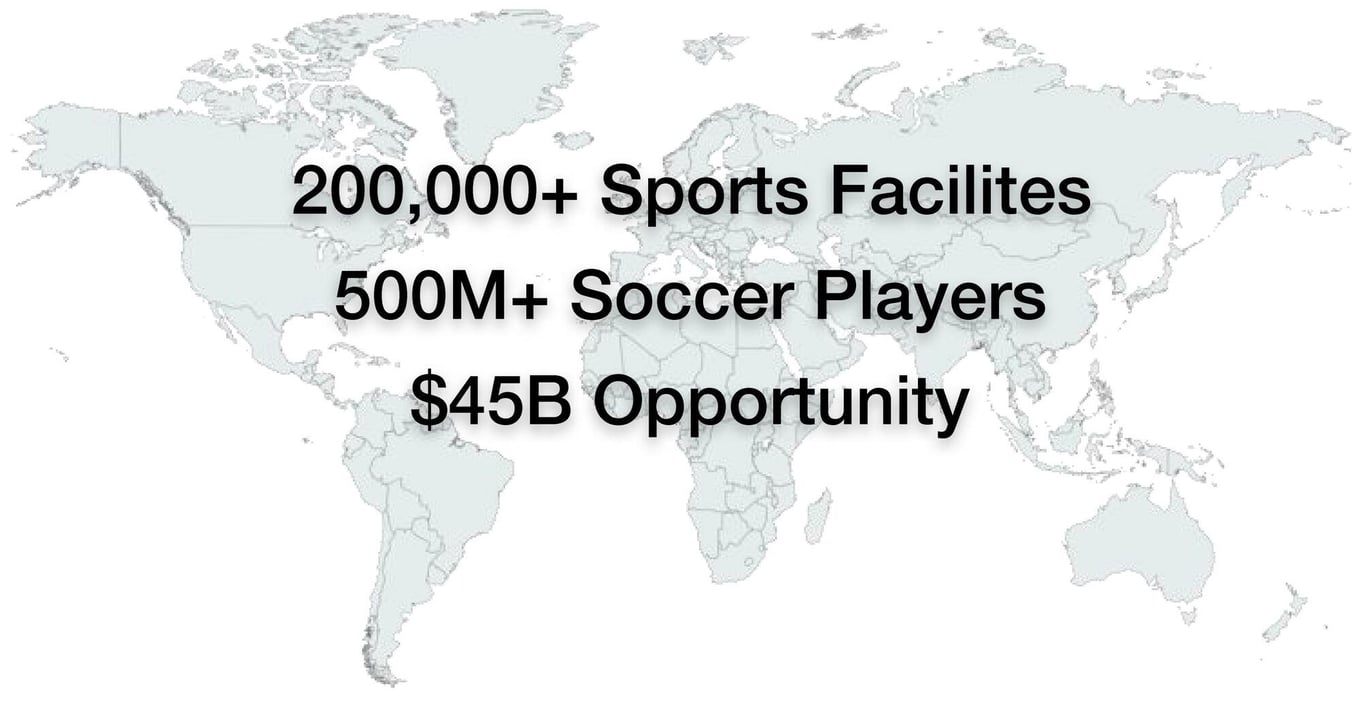 Our approach has worked!
Today, Plei is the largest pickup soccer platform and organizer in the United States.
---
$36M in revenue by 2026
Our goal from here until the end of 2026 is to 2x our revenue every year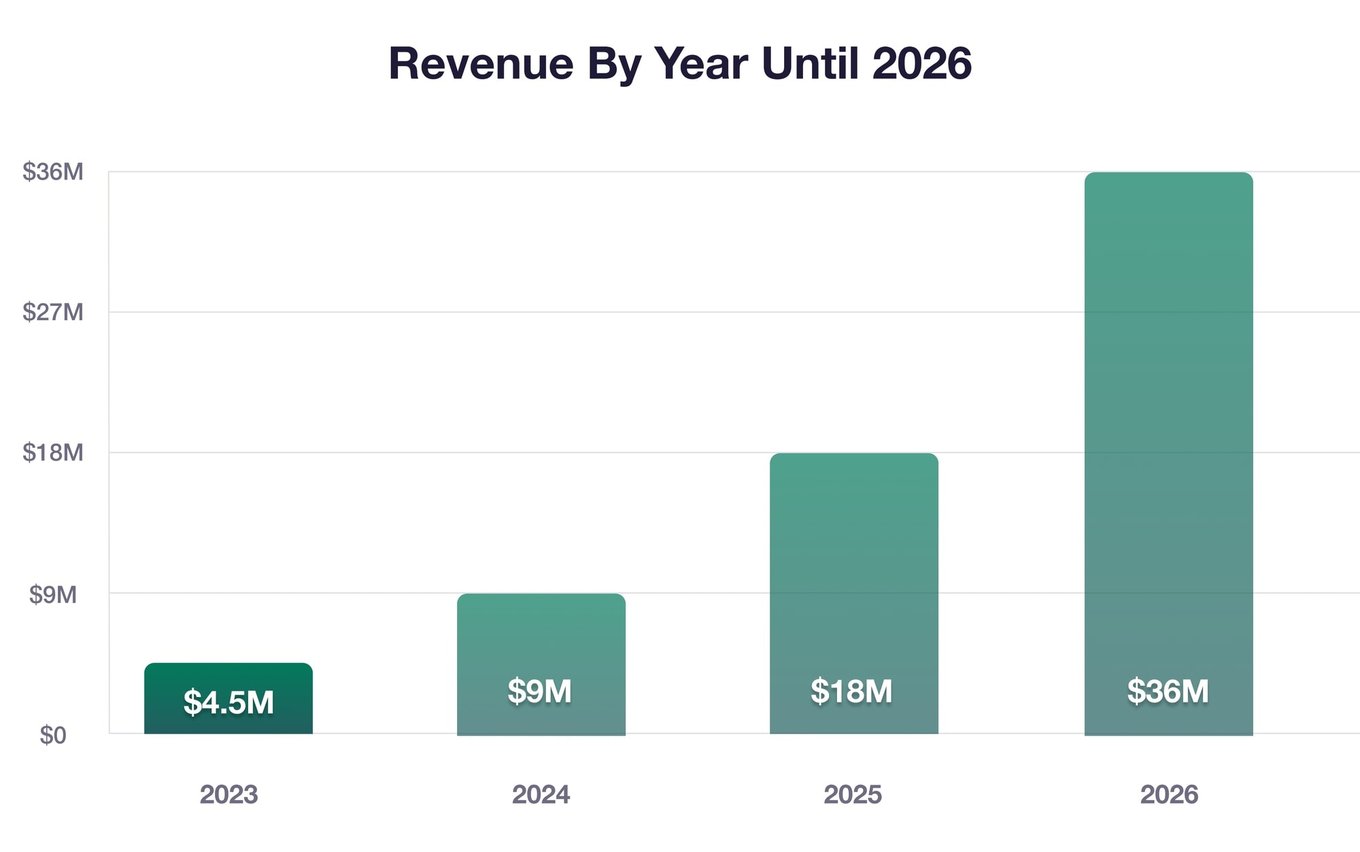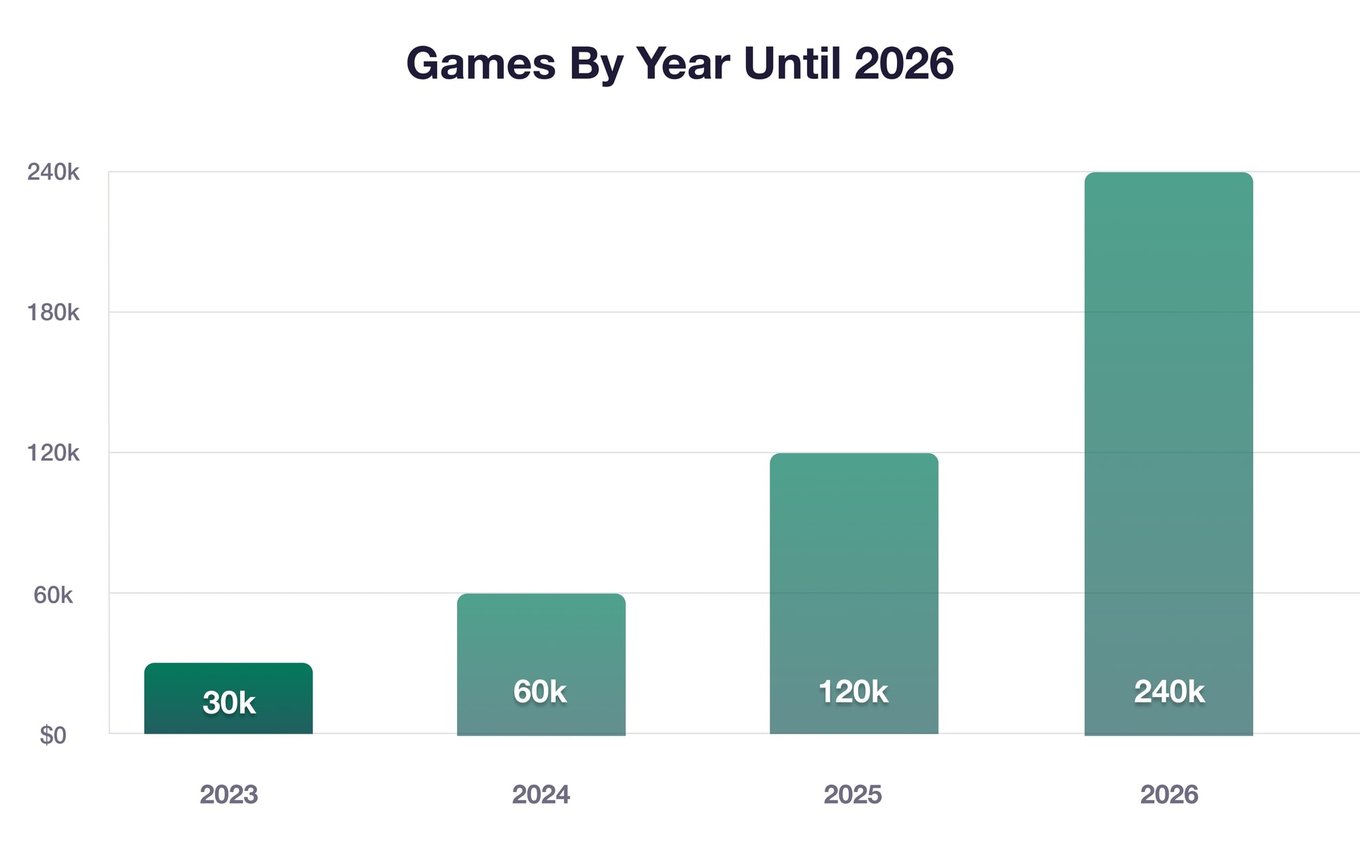 In order to accomplish this, we will continue to grow within the markets we currently serve and continue to grow our total number of markets as well.
In 2024 we plan to scale internationally and will continue to increase our growth rate. We will expand Plei and become to go-to app for Fútbol enthusiasts globally.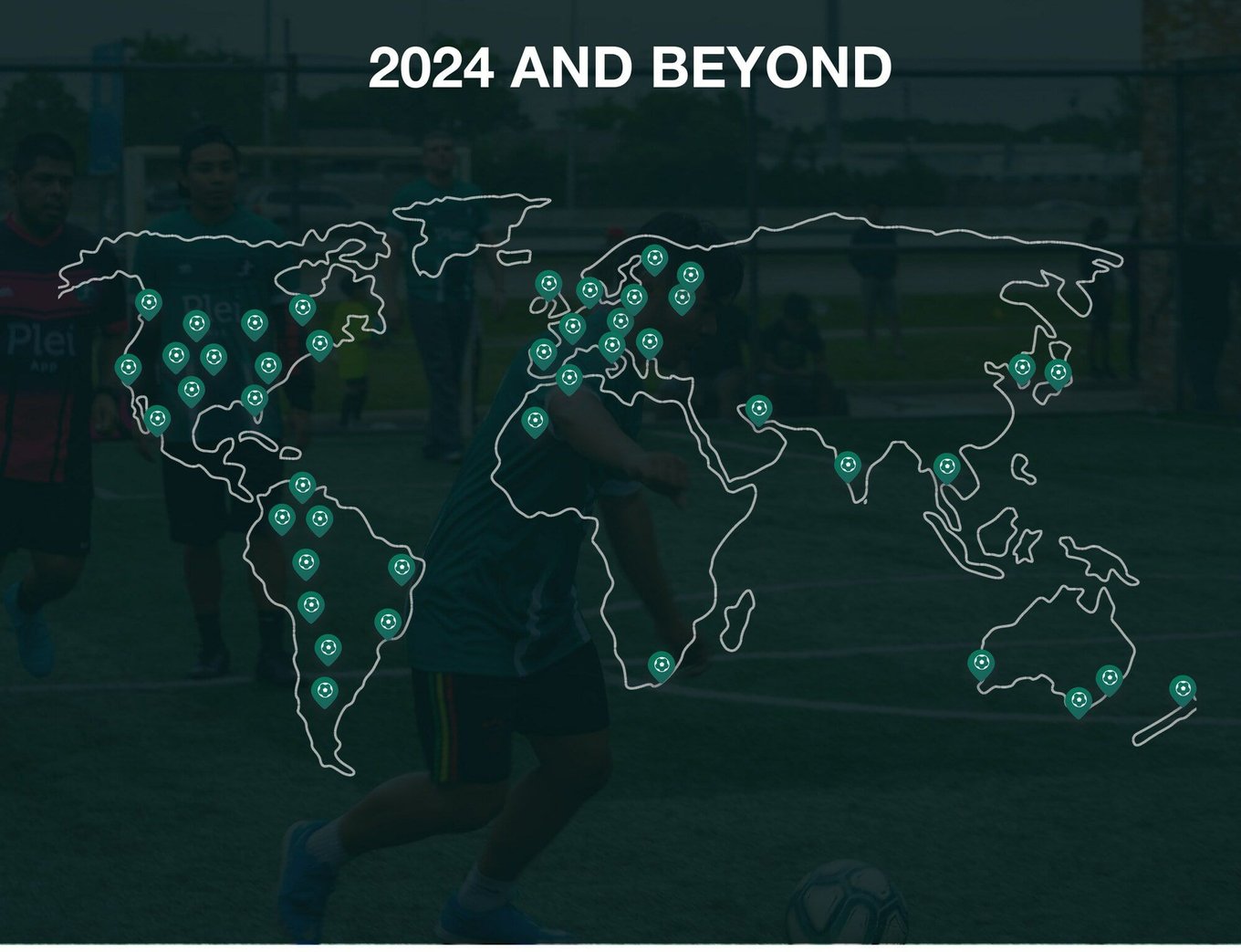 We're thrilled to report that we have reached the current stage of our company at a bootstrapped level, apart from a $118k crowdfunding equity campaign on Republic back in 2020.
We've done so by staying lean and investing in areas in our business that we felt would translate to long-term sustainable growth.
We will take the same approach going forward and will be using the funds raised on this campaign to accelerate our growth rate in a sustainable way to ensure that Plei will not only reach market dominance but be around for decades to come.

Sebastian Duque
CEO
An avid soccer player with a passion for innovative technology, Sebastian Duque grew up in Miami, FL. He graduated college at Loyola University Maryland in 2015 with a Bachelors in Business Administration with a concentration in International Business and Management. At Loyola, Sebastian founded Custom Sportswear (CSW). CSW provided custom apparel to different organizations at local Universities, cutting costs to save clients money, providing faster delivery times, and higher levels of customer service. This was his first taste for B2B sales.
In January 2016, he promised himself he would start a company that would solve all the underlying pain points he faced as a soccer player. Fast forward to 2023, he has built Plei to where it is today with no institutional financing. Now, his mission is to spread the joy and excitement that soccer has brought him to the rest of the world.


Alejandro Duque
COO
Starting from a young age, Alejandro has always been a serial entrepreneur. He was the type of child that would sell candy bars and waters to his friends at school. After graduating from high school and attending three semesters at university he quickly realized that his passion for building businesses was his driving force in life.
He left University and started a green energy company, BioElectric. Focused on the industrial market, BioElectric produced hardware that increased the efficiency of electrical consumption and optimized power factor, achieving an average reduction of 25% in energy consumption for high rises and households alike.
Family Business
Sebastian and Alejandro, siblings, have worked together for over a decade. In 2013, they worked as insurance agents building a successful health insurance agency. This business has allowed for Plei to remain bootstrapped and for them to keep reinvesting.
The two brothers come from an entrepreneurial family. Their parents emigrated from Colombia to Miami, FL in the '80s. In 1998 they founded a local insurance agency that has grown to become one of the most successful agencies in South Florida.
Witnessing the value of sacrifice and perseverance first hand, Sebastian and Alejandro developed an exemplary work ethic focusing on consistency, honesty, and discipline. Leading by example, they created a company that turns its attention to customer service and providing a lasting impact on communities.