Most gluten-free bread is not nutritious: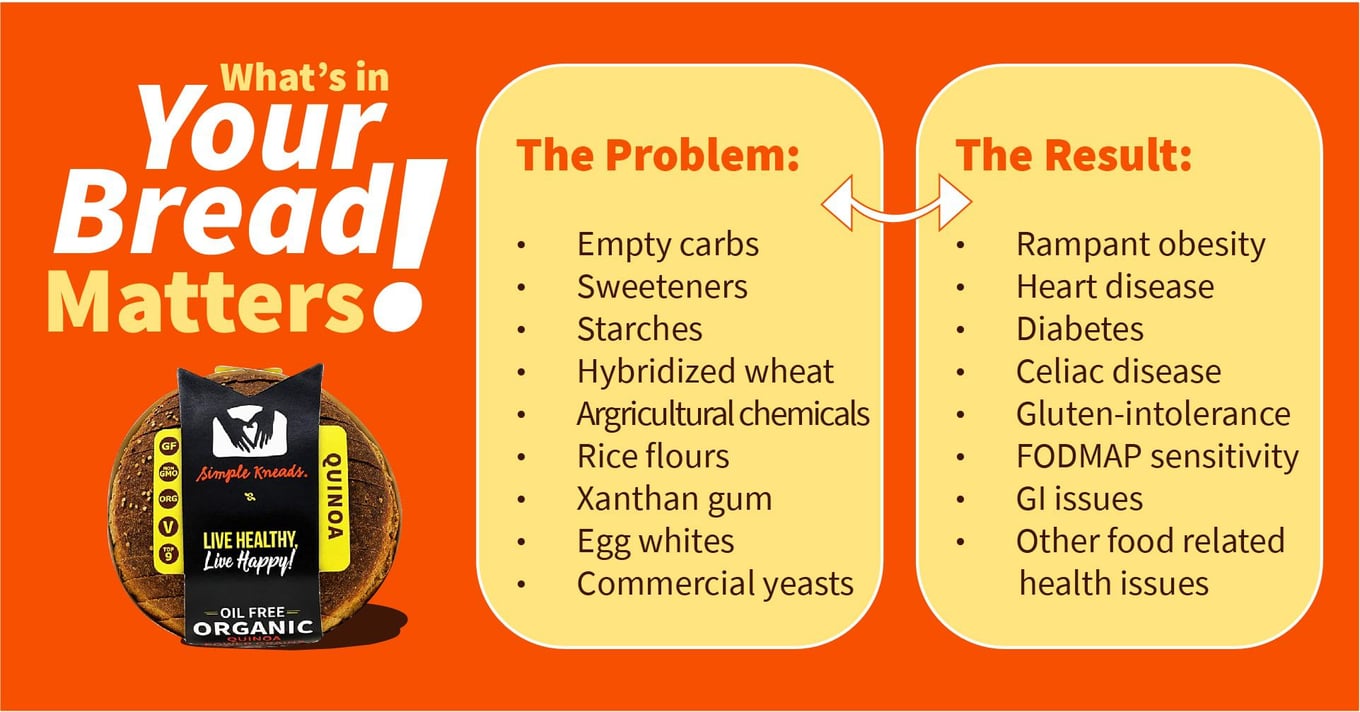 Over the last century bread has digressed from a healthy hearty "staff of life," to a modern blunder of highly processed carbohydrate rich fluff devoid of nutrition and filled with harmful chemicals, dough conditioners, sodas, gums, white flours, and starches. Artisan sourdough leavening was replaced with fast acting commercial yeasts. Highly processed food, has made us unhealthy and contributes to the rise in gluten sensitivity along with a host of other issues. As a response, gluten free breads emerged, however they did not address the root problem. They were also filled with empty processed carbs, low in fiber and devoid of nutrition.

We are in a HEALTH CRISIS caused by the lack of nutrition. We need nutritious food our bodies can absorb!
The pinnacle of natural foods!
Simple Kneads has created an amazingly nutritious and delicious organic sourdough bread positioned to capture not just the gluten-free consumer, but also expands to the free-from and health and wellness communities!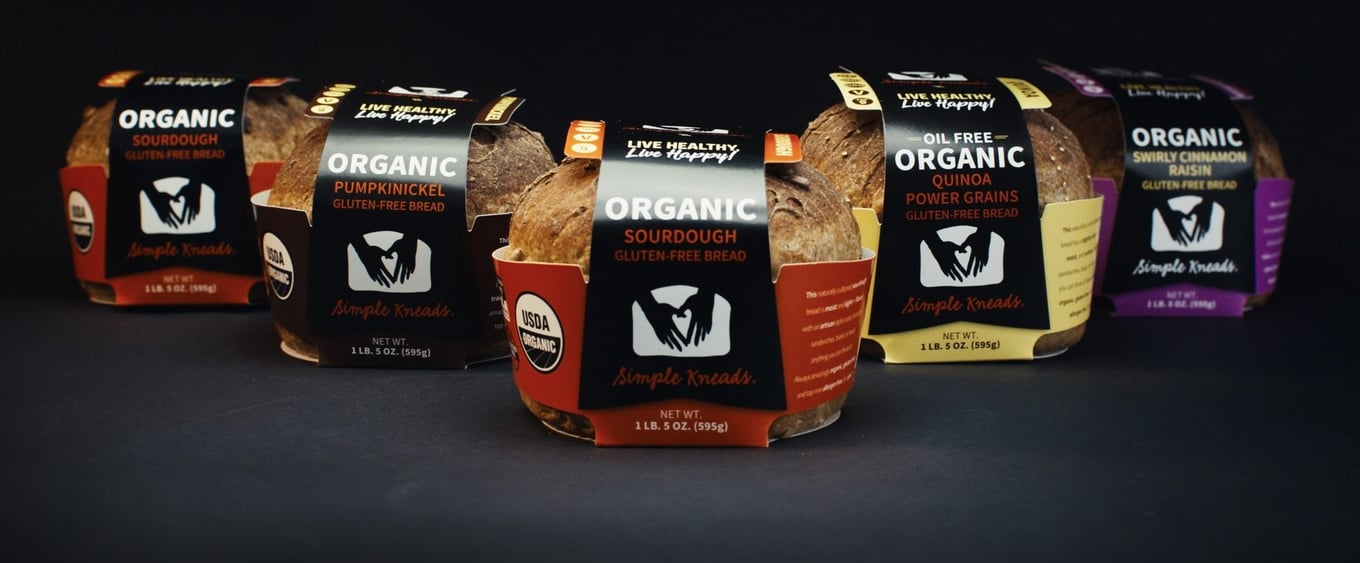 Not only are our breads packed with nutritious gluten-free whole ancient grains but also:
NO starches
NO fillers
NO gums
100% plant based
Top-9 allergen free
AMAZINGLY DELICIOUS!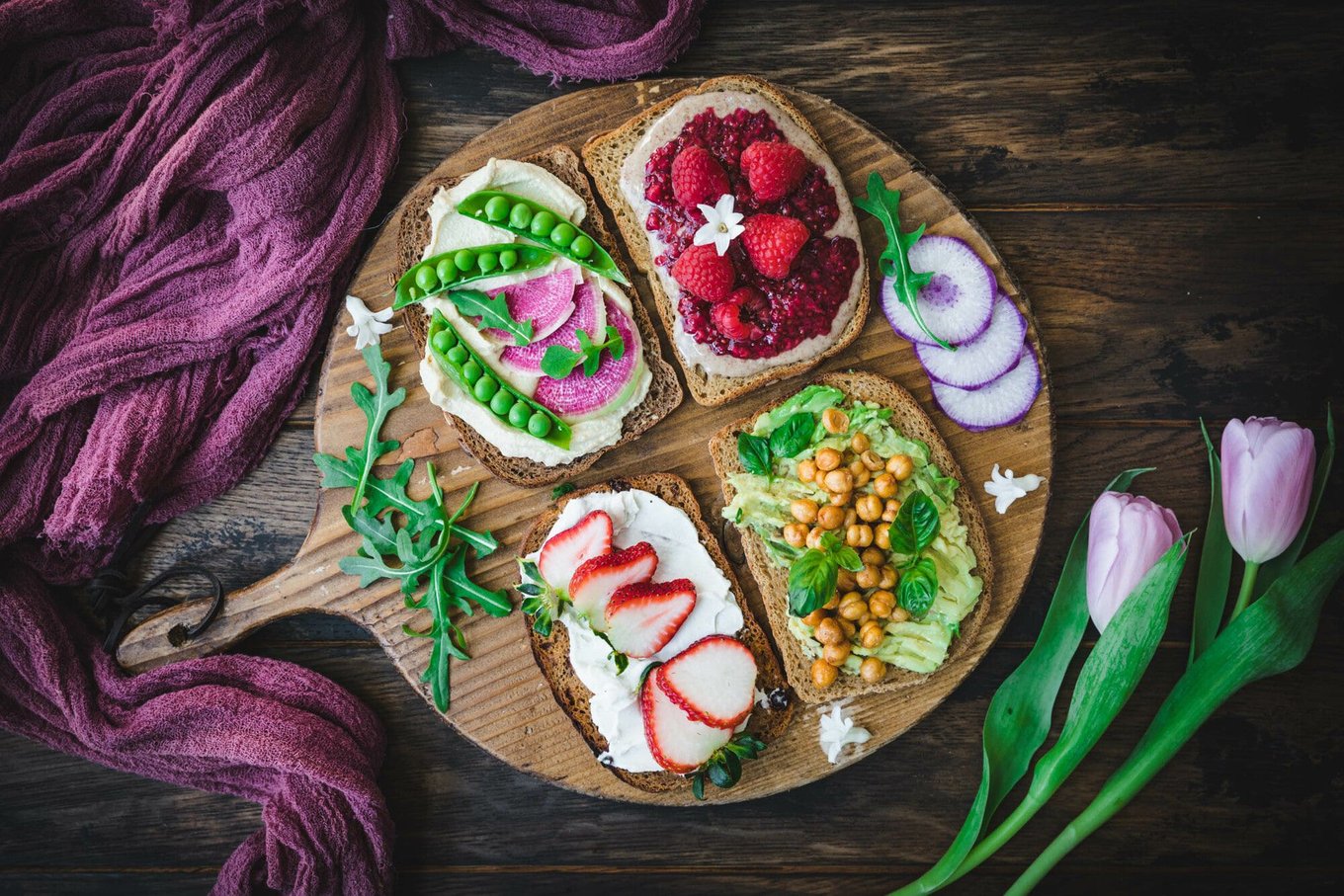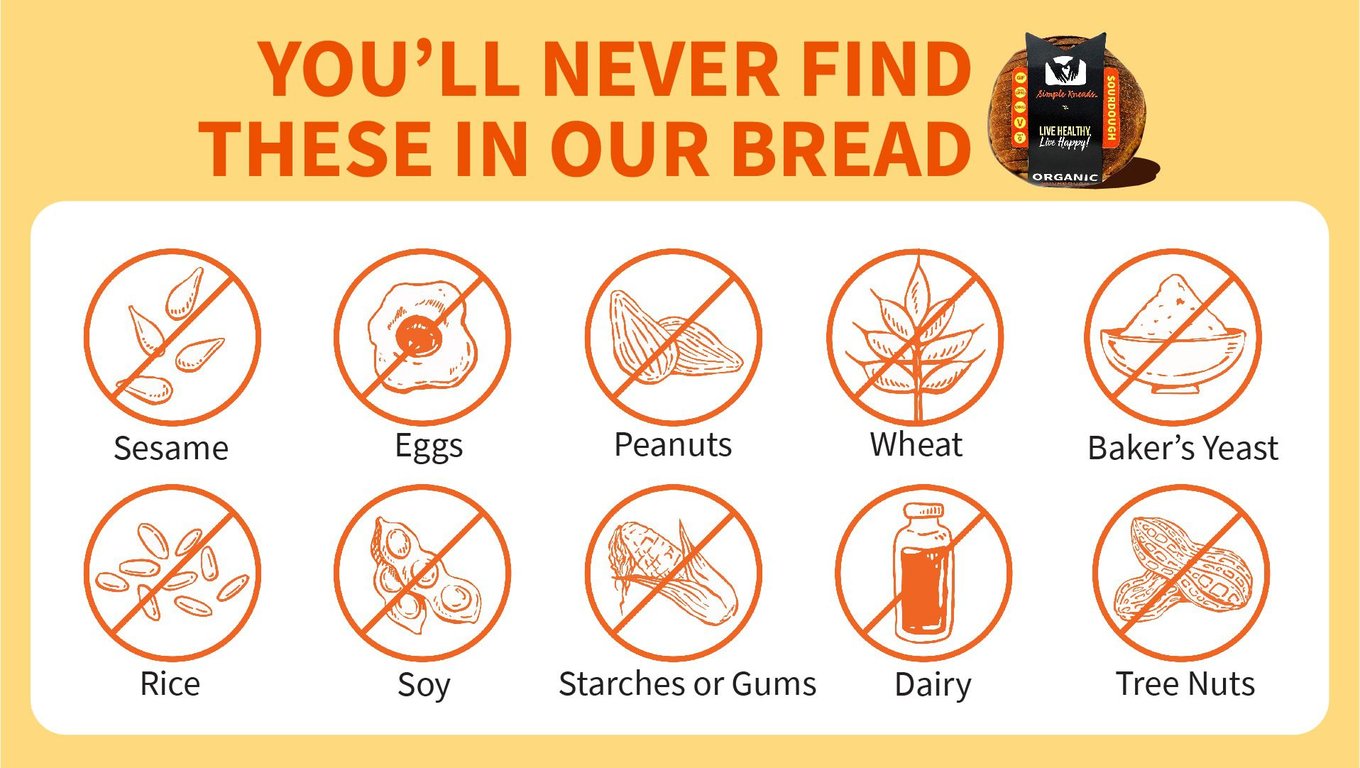 Last but NOT least, all our flavors have a true artisan sourdough base! What does this mean? We do not use commercial yeasts or baker's yeast to make our breads rise. Instead, we use a starter – a fermented flour and water mixture that contains wild yeast and good bacteria. We make our bread the way bread was made in ancient times, and before the introduction of commercial yeasts. This is critical for health and healing!
Melissa Richards, in her book Baking with Natural Yeast, mentions that in the 1980s when rapid rise yeast came into the picture, so did the rise of celiac disease, gluten sensitivity, acid reflux, and other serious digestive conditions. Many have noticed that when they switched back to naturally leavened bread, they stopped experiencing symptoms like heartburn, constipation, diabetic spikes, and other allergic reactions. This makes sense because true artisan sourdough is amazingly beneficial to your digestive system!
"Natural leavened bread, because of its inherent beneficial ferments, slowly re-creates the population of friendly lactobacillus digestive bacteria in the absorption tract. The end result is recovery of the digestion and proper elimination by the effective action of friendly bacteria." (Naturally Leavened Bread by Jacques de Langre).
"Baking with natural leaven is in harmony with nature and maintains the integrity and nutrition of the cereal grains used … The process helps to increase and reinforce our body's absorption of the cereal's nutrients." (Excerpt from Sally Fallon's Nourishing Traditions.)
The benefits of sourdough are numerous! Simple Kneads offers gluten-free sourdough bread that's sole aim is to bring healing and balance back to the body. Truly, this is the pinnacle of natural foods!
The ONLY
Certified organic

Gluten-free

True artisan sourdough

100% plant based

Sliced bread
...in the known universe!

Your browser does not support HTML5 videTrue artisan goodness
When Simple Kneads' CEO and founder, Tristaun LeClaire, discovered that his son had serious food allergies he set out on a quest to develop the perfect gluten-free bread. He pulled from the best aspects of various breads from around the world and created a product packed with nutrition and made through the true artisan sourdough process of fermentation! Little did he know that he would end up with such a unique, one-of-a-kind product.

Superb customer service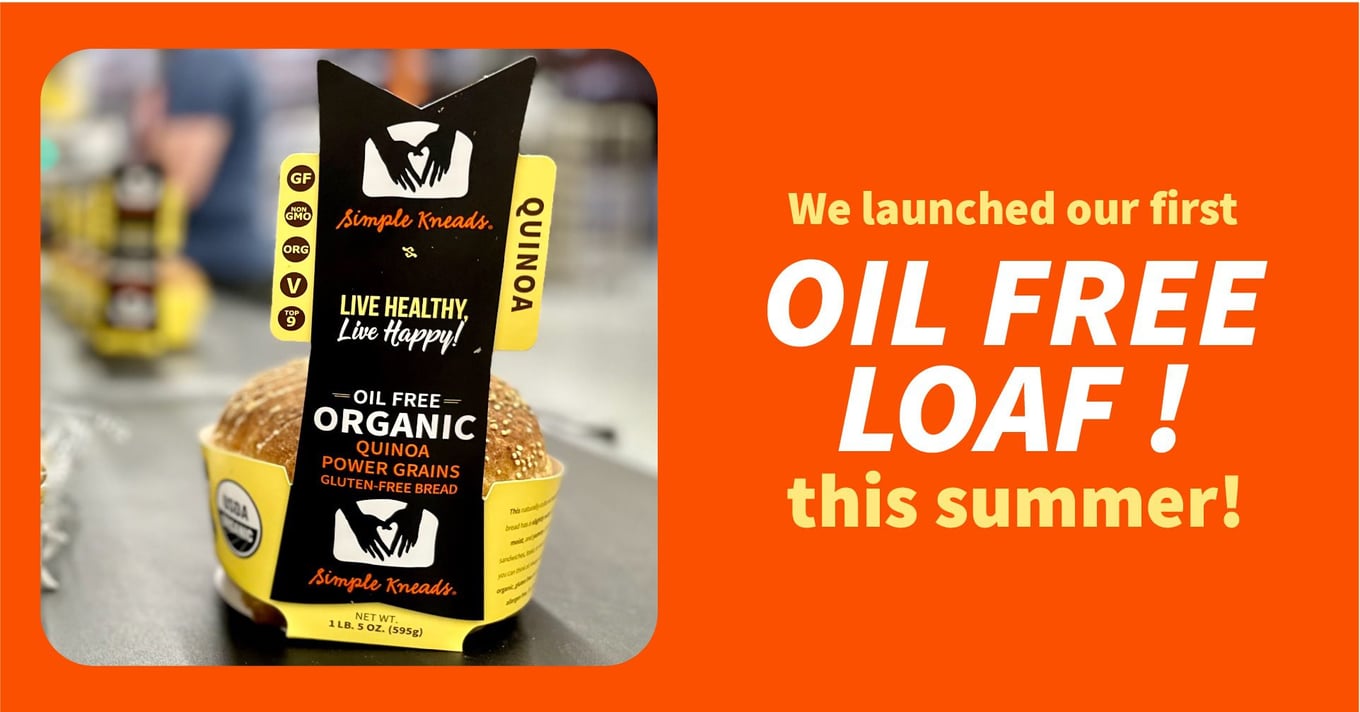 It's our greatest desire to meet the needs of our customers as far as possible. Through the years we have continued to perfect our product. Many of the changes have been initiated by request.
In 2016 we took seeds out of the inside of our breads, making it possible for customers with gut issues, like diverticulitis, to consume our products.
In 2018 we stopped using sesame. Sesame is the ninth major food allergen and so to cater to the needs of these customers, we made this change.
In 2022 we launched our amazingly delicious cinnamon raisin loaf – this was a popular request.
This summer - 2023, we launched our first OIL FREE loaf! This was a critical move! For years people had been reaching out, asking for an oil-free version of our bread. This was not easy, but we did it! We are super excited to be able to diversify even more and offer this much needed oil-free version of our amazing bread!
This year we also became certified organic, non-gmo & gluten-free! We know how important these certifications are, especially to those who are overcoming health challenges. This was a huge milestone. These certifications confirm yet again, that our product continues to be the highest quality standard!
We have future plans to diversify our product line to include pizza crust (as featured in our promo video), bagels and English muffins. These are also top requests.
We bring a truly satisfying solution to our customers. This solution addresses the root problem, THE NEED FOR NUTRITION. Not just empty carbs and chemicals but ORGANIC SOURDOUGH WHOLE GRAIN GOODNESS!
The majority of customers buying gluten free are looking for healthy alternatives:
Research shows that most gluten-free bread consumers (72%) do not have celiac disease.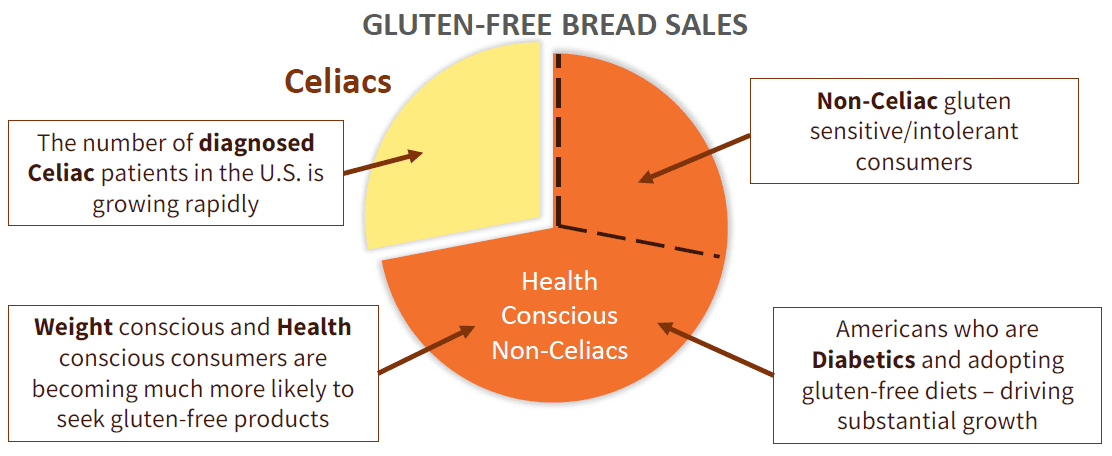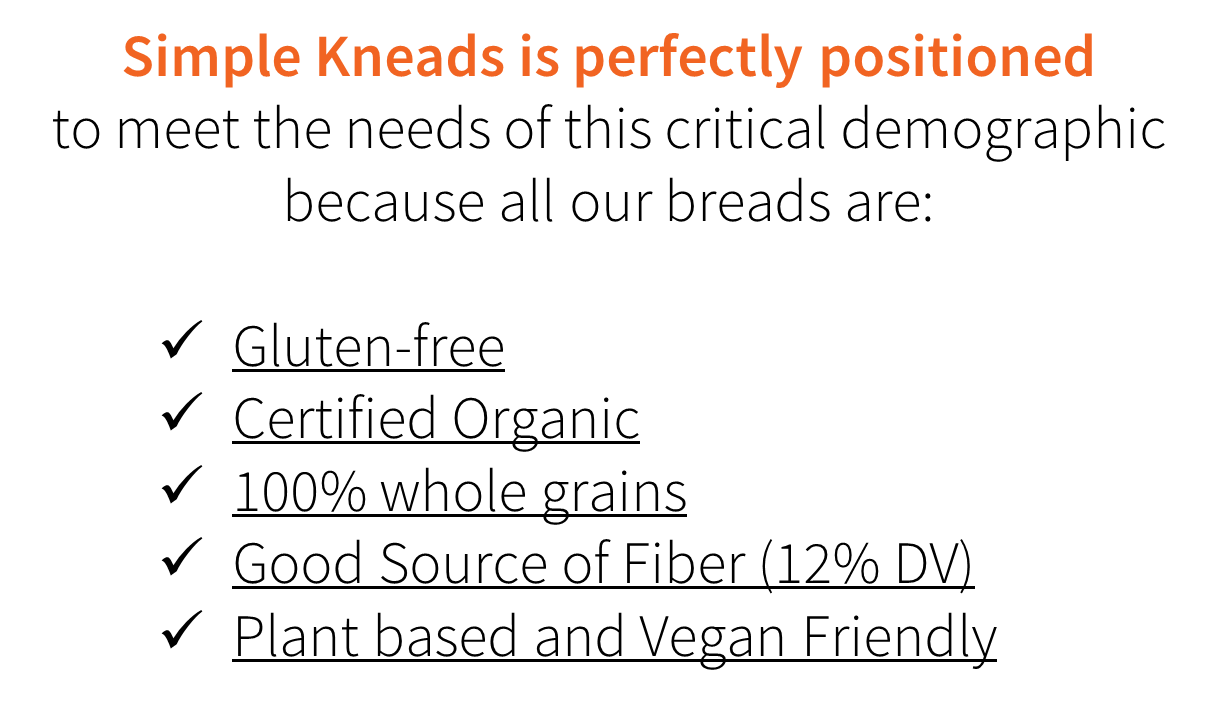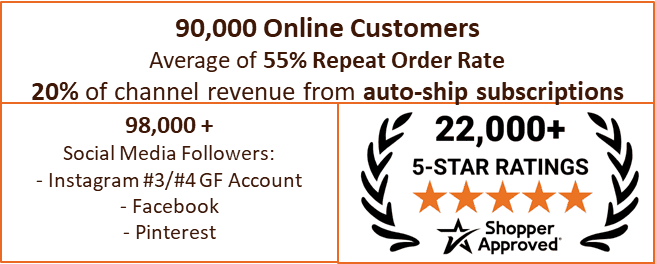 INSPIRING TESTIMONIALS:
Because we are making such a profound impact in people's lives, we will never compromise the quality of our product.
Here are just a few testimonies from the hundreds of emails we receive weekly, sharing how Simple Kneads changed their life: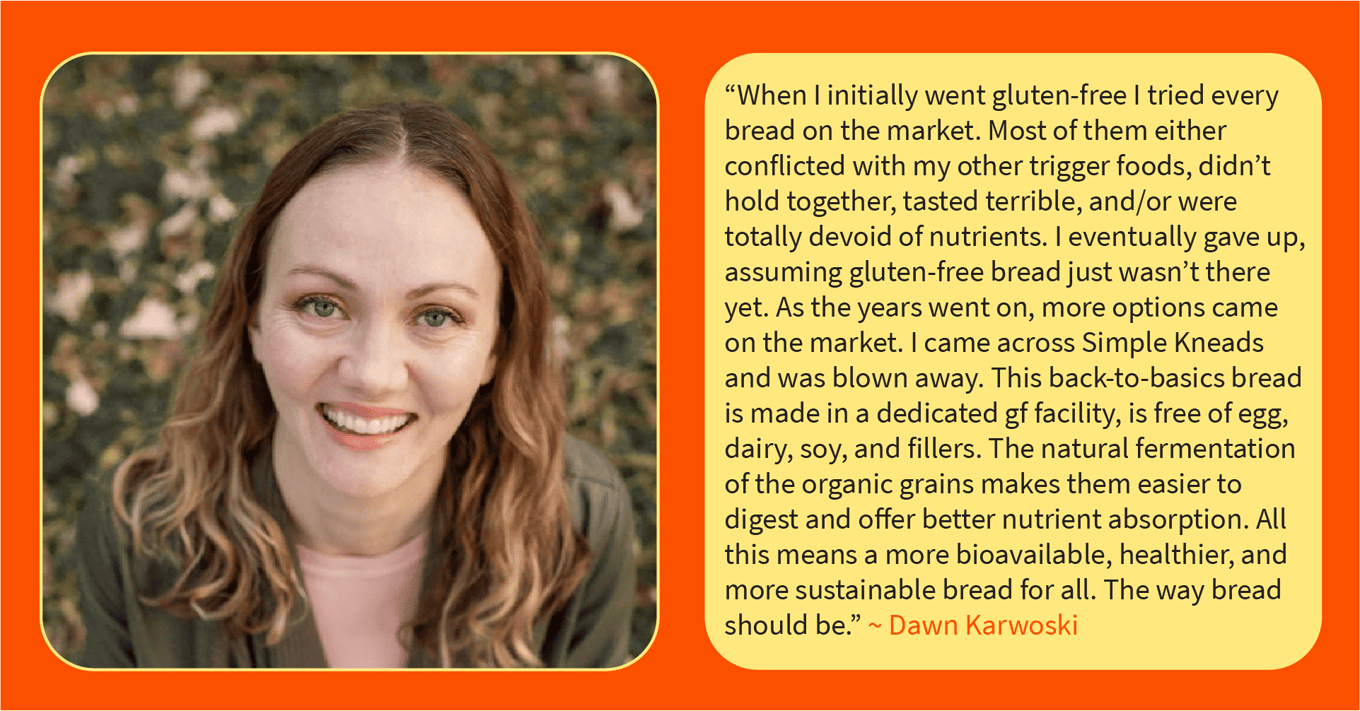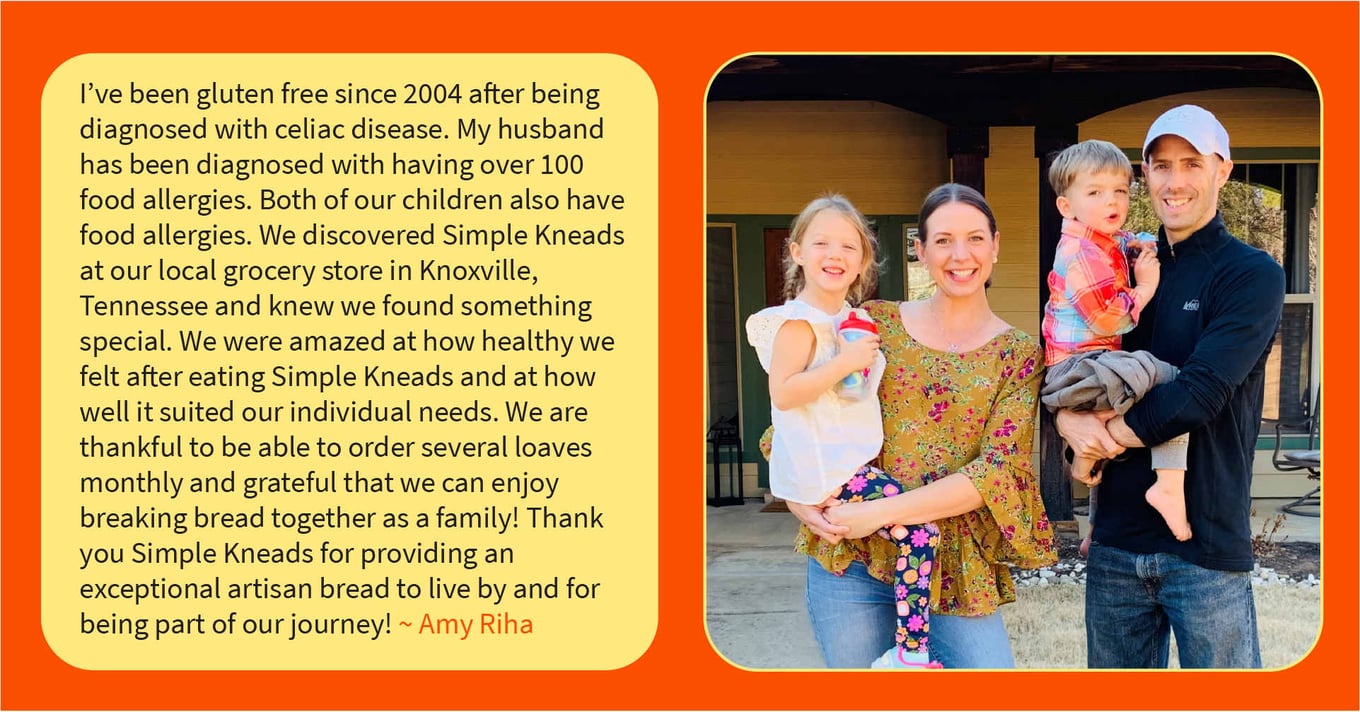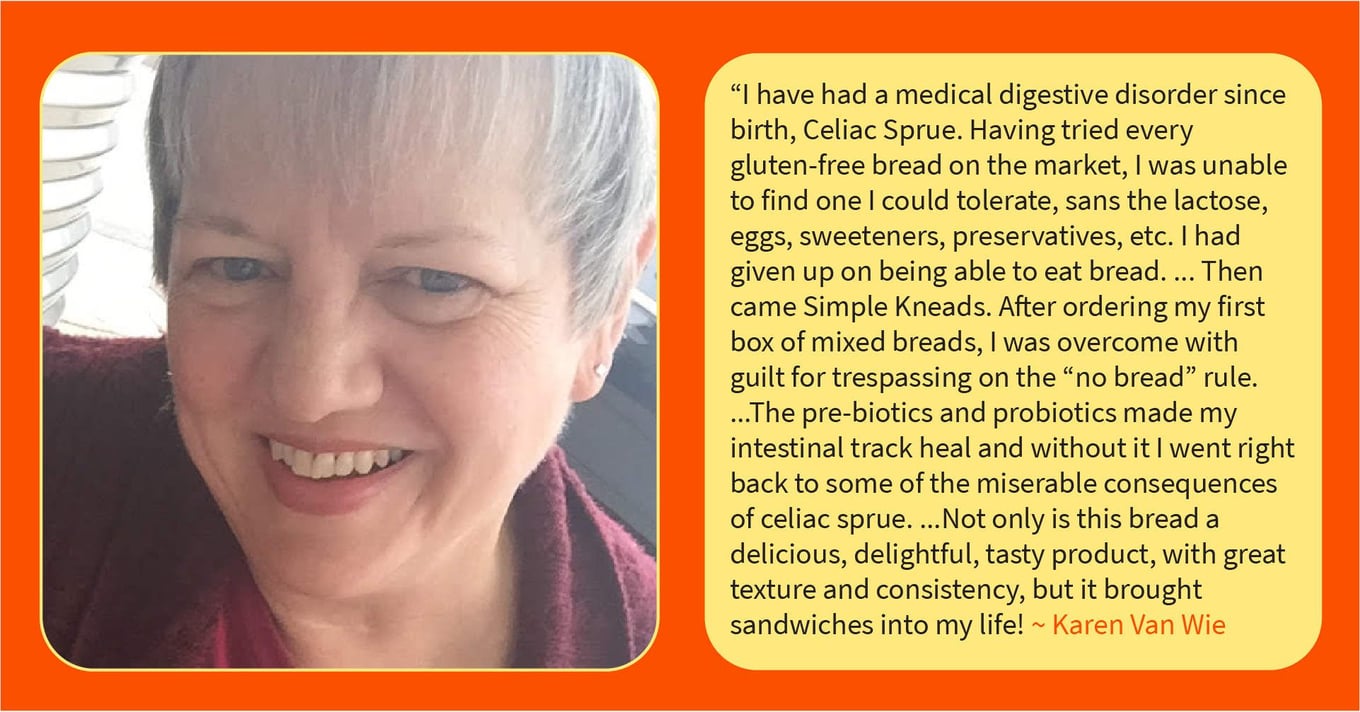 Business Model
We manufacture and fulfill orders from our own dedicated 20,000 SF allergen-free facility located in North Carolina. This allows us to maintain control of the quality and safety of our products and protects our proprietary process and formulas.
D2C
From our bakery we ship to thousands of customers nationwide, including Hawaii, Alaska, Puerto Rico, and the US Virgin Islands.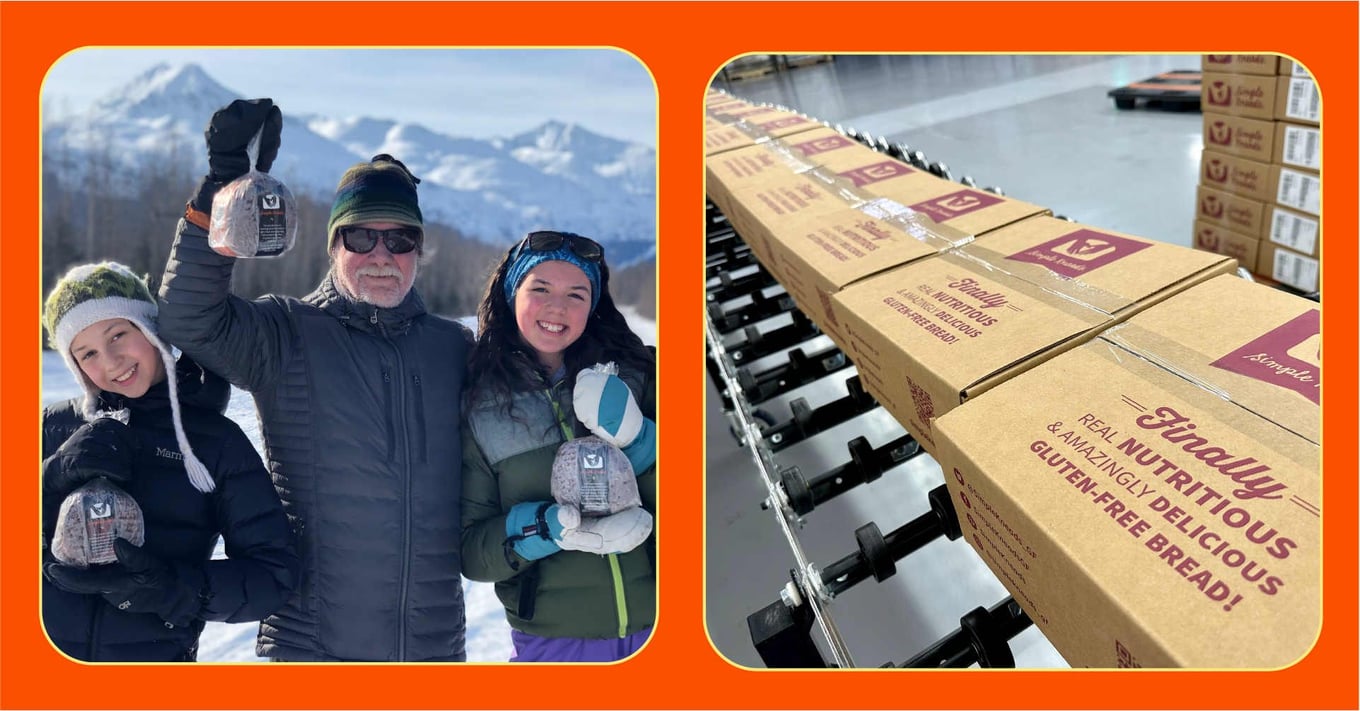 B2C
We palletize and ship to a rapidly growing list of grocery retailers, and food service establishments nationwide.
Projected 58M+
sales by 2026
Simple Kneads has pursued a strategy of building three mutually supporting sales channels: Grocery Retail Sales, E-commerce Sales and Food Service Sales.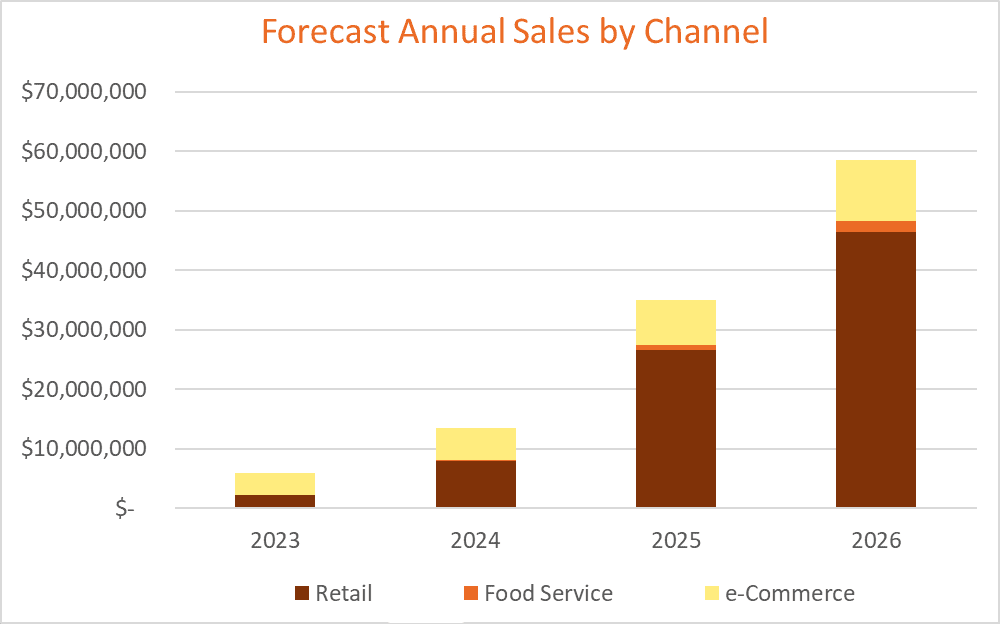 Grocery Retail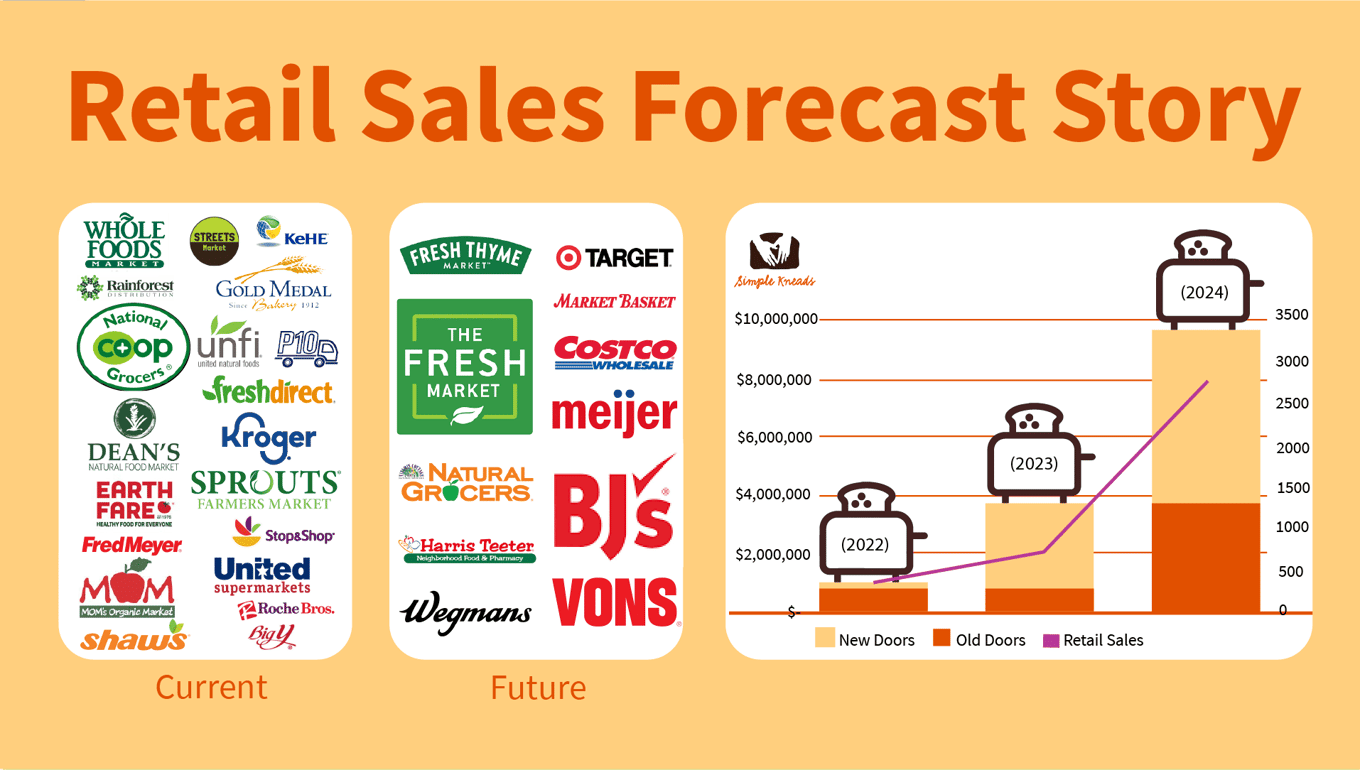 The brand is currently focused on scaling into hundreds of new doors in several large national retailers. We expect that this channel will outpace ecommerce in 2024. Our primary objective is to build Simple Kneads into a national brand by expanding our footprint in grocery retail stores.
Ecommerce Sales

Ecommerce was our earliest growth driver and scaled rapidly during COVID. We continue to utilize our ecommerce sales channel as a marketing tool to drive brand awareness and revenue growth.
Food Service
Simple Kneads is poised to capture a larger share of the food service market. As we expand our product offerings there will be opportunity for growth in food service. Pizza crust, buns and other items are on the horizon, which cater to a broader spectrum of food service needs.
>22% QoQ GROWTH ACROSS THREE SYNERGISTIC SALES CHANNELS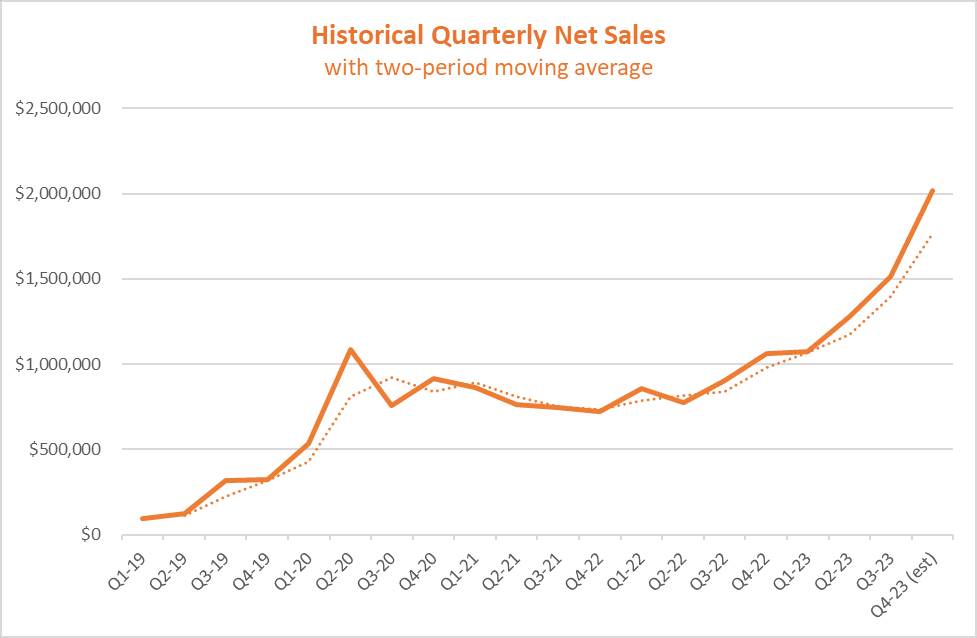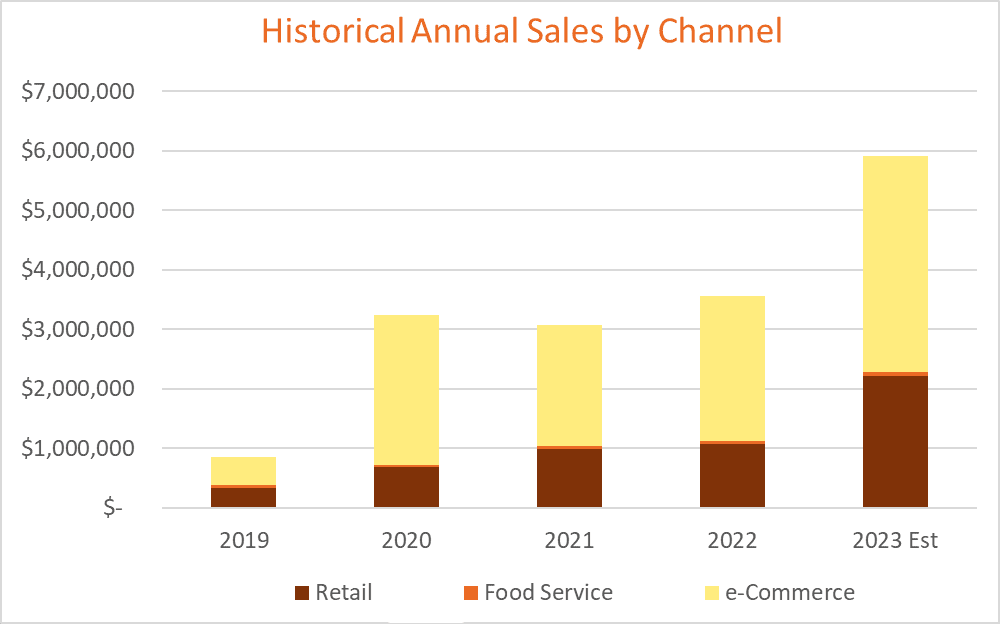 3 sales channels with mutually supporting marketing efforts
Very positive customer engagement across all channels
Grocery retail is currently at the beginning phase of rapid expansion
New distribution in the following retailers:

Sprouts, Whole Foods, Kroger, Fred Meyer, Stop & Shop, Shaws, Big Y, United Supermarkets and Roche Bros.
SO MUCH MORE THAN GLUTEN-FREE: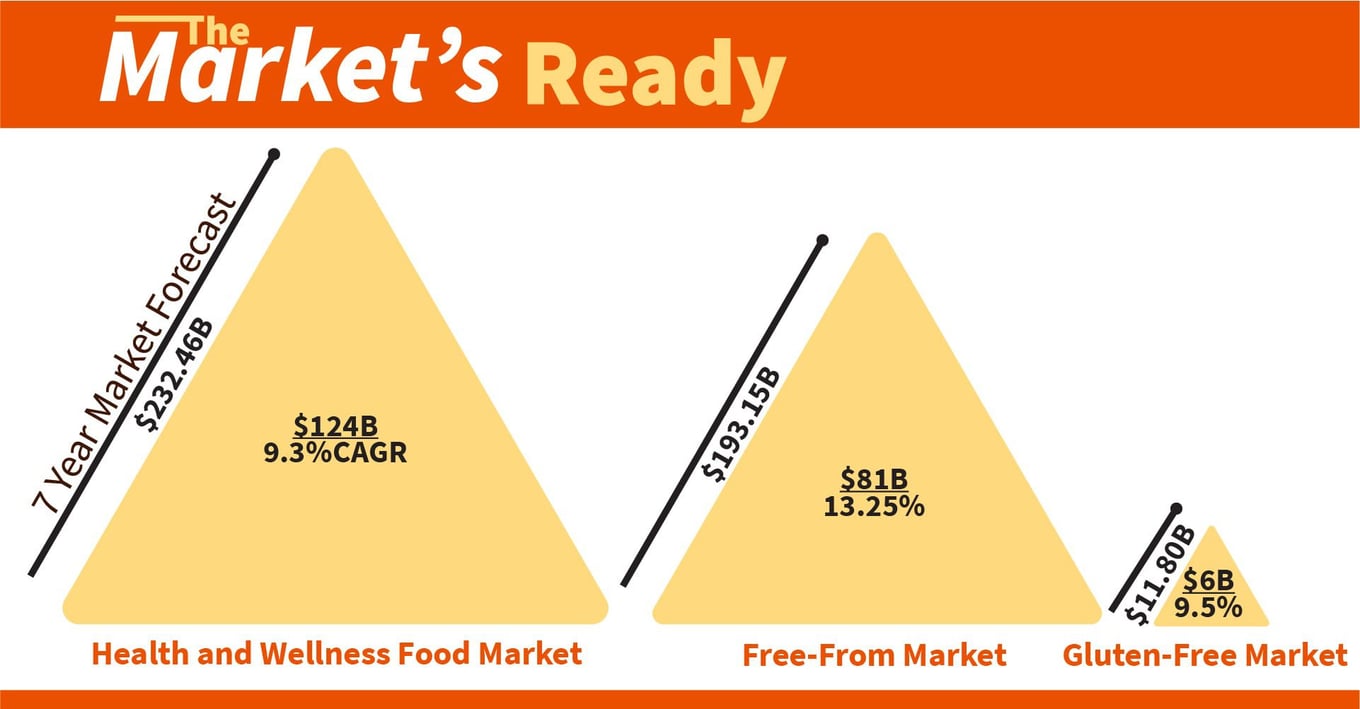 We are tapping into a MUCH LARGER market than just gluten-free…
The Gluten-Free Market is valued at 6.3B and projected to reach 11.8B by 2030
The Free-From Market is valued at 80.84B and projected to reach 193.15B by 2030
The Health & Wellness Market is valued at 124.26B and projected to reach 232.46B by 2030
Our ability to capture from all three of these rapidly growing markets positions Simple Kneads to grow beyond just the potential of a gluten-free bread. We are expanding the addressable market for gluten-free bread in a vital way. We are bringing consumers back to the table that had given up on bread.
SIMPLE KNEADS OFFERS EXACTLY WHAT THE MARKET IS LOOKING FOR AT THIS PIVITAL MOMENT IN TIME!
CONSUMERS ARE ASKING FOR ORGANIC PLANT-BASED NUTRITION:
When you read the ingredient labels on the leading gluten-free bread brands it's truly astonishing. They have missed the boat by focusing solely on being gluten-free, and not on health.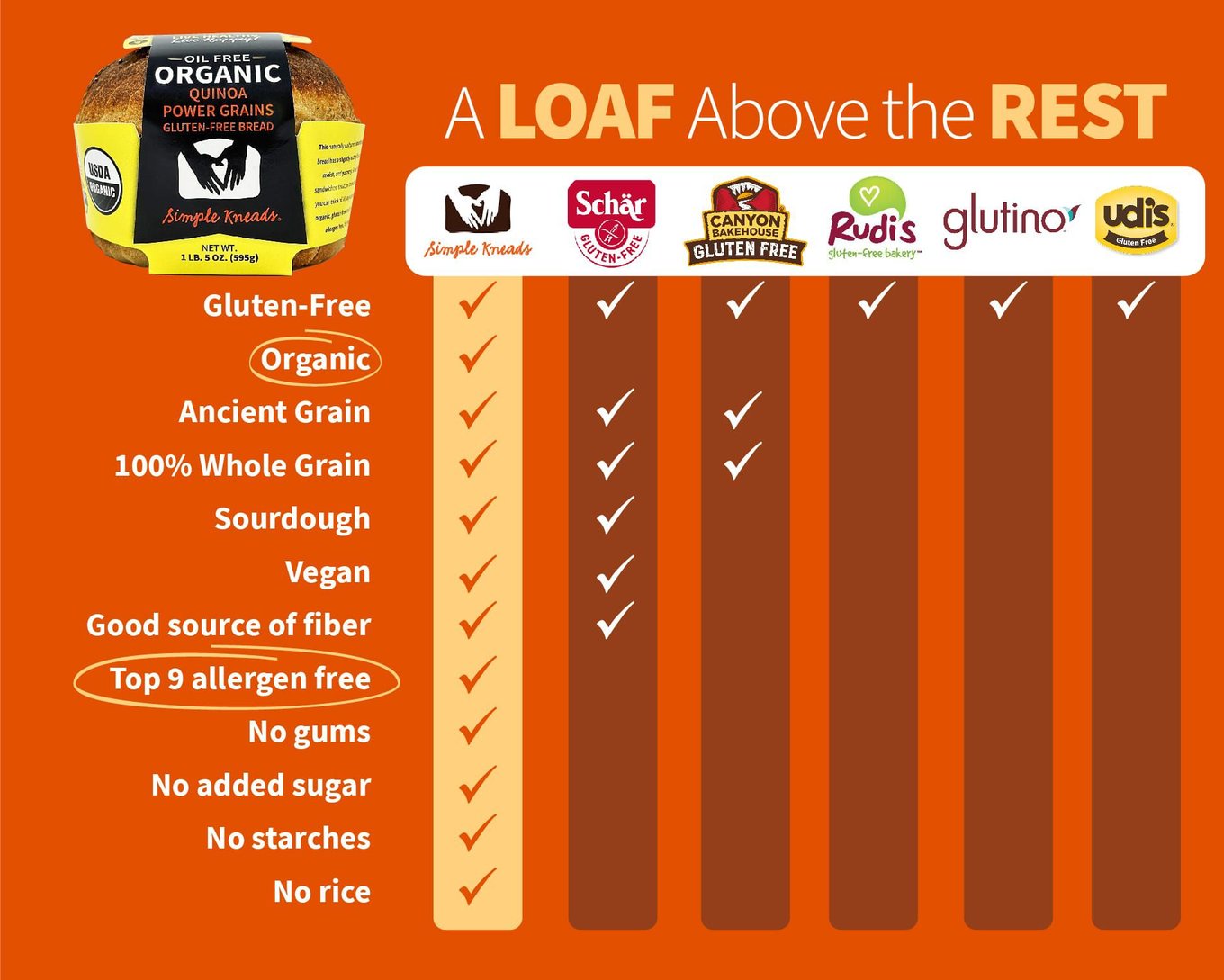 Many are realizing that their health conditions are not improving, and they are recognizing that starches, fillers, gums and other overly processed ingredients are not helpful for attaining ultimate health. They are asking for more plant-based, whole food options.
Look and Performance
Simple Kneads is truly distinguished from the status quo...
| | |
| --- | --- |
| Simple Kneads | The competition |

The first time you make a sandwich with Simple Kneads you will taste and see the difference!
Our bread does not fall apart.
Our slices are large enough to make a proper sandwich.
Our texture is more like bread.
You can taste the flavor of ancient grains rounded by our sourdough culture.
General Friendliness
Plant based means friendly to our animals and our planet.
We love to donate to worthy causes. For the last few years, we have been donating to a local food bank, feeding around 20,000 impoverished families. This summer we donated bread to a Kid's Celiac Summer camp in California! They loved it and shared these and many more photos with us…

Health and Wellbeing of consumers
Each of our ingredients has been carefully selected, not only for their properties that enable us to make incredibly delicious bread, but also to benefit the health of our customers.
Regenerative Agriculture
Agricultural practices are one of the largest contributors to the health of our planet.
Organic ancient grains promote regenerative agriculture.
Traditional wheat has a strong negative impact on the environment and soil.
GENERAL FRIENDLINESS
Simple Kneads is committed to only using plant-based ingredients in our products. Most gluten-free bread products have eggs in their formulas.
Plant based products:
Create lower emissions
Protect our soil and fresh water supply
Preserve natural resources
Are only mean to plants 😊😉
HEALTH AND WELLBEING
The health and wellbeing of our customers is paramount. For this reason we make our products from millets, quinoa and buckwheat which are whole grains that have several health benefits, including:
Weight loss: rich in protein and fiber, which are essential nutrients for weight loss.
Blood sugar and cholesterol levels: Millets may help lower blood sugar and cholesterol levels.
Digestion: These grains are high in fiber which helps with regular bowel movements and lower the risk of digestive problems. Studies in animals have suggested that eating sorghum may positively alter the gut microbiome and protect against gastrointestinal issues.
Lower Inflammation: Rutin and quercetin are compounds found in Buckwheat that may help with inflammatory conditions like arthritis.
Cardiovascular health: Millets and Quinoa may help protect cardiovascular health and reduce cardiovascular risks.
Diabetes: Millets may help prevent the onset of diabetes.
Respiratory health: Millets may improve respiratory health.
Immune system: Millets may boost the immune system.
Antioxidants: Sorghum has more antioxidants than blueberries in the form of flavonoids, phenolic acids, and tannins. These antioxidants may help reduce inflammation and prevent heart disease, diabetes, and cancer.
Protein: Buckwheat and Quinoa Contain all the essential amino acids that your body cannot produce.
Magnesium: Sorghum is a rich source of this mineral Important for bone formation, heart health, and over 600 biochemical reactions in the body.
REGENERATIVE AGRICULTURE
Conventional agricultural practices are one of the largest contributors to the health of our planet.
Wheat farming can have negative impacts on the environment, including:
Fertilizers: Synthetic fertilizers are used in most large-scale wheat production. When nutrients from these fertilizers run off into the environment, they can contribute to climate change, algae blooms, and oceanic "dead zones".
Pesticides: Heavy pesticide usage in non-organic wheat production can contribute to water scarcity and water pollution. They can also remain in the environment for generations.
Monocropping: All wheat production involves monocropping, which depletes nutrients in soil, reduces organic matter, and causes erosion.
Greenhouse gases: Fuel, inorganic fertilizers, and pesticides used in wheat production emit greenhouse gases that can contribute negatively to climate change.
Soil degradation: Crop production can cause soil degradation.
Organically grown ancient pseudo grains like millets (millet, sorghum, and teff) and buckwheat that we use in making our products support regenerative agriculture.
Improve soil health: Buckwheat can be tilled back into the earth to become fertile soil. It can be used as a crop rotation to increase diversity and support soil health.
Control erosion: Strong root systems help to prevent erosion.
Attracts pollinators: Buckwheat has abundant blossoms that pollinators love.
No Chemicals: Buckwheat and Millets can perform better than cereal grains on low-fertility soils and do not require chemical fertilizers.
Use less water: Millets are easy to grow and drought-tolerant.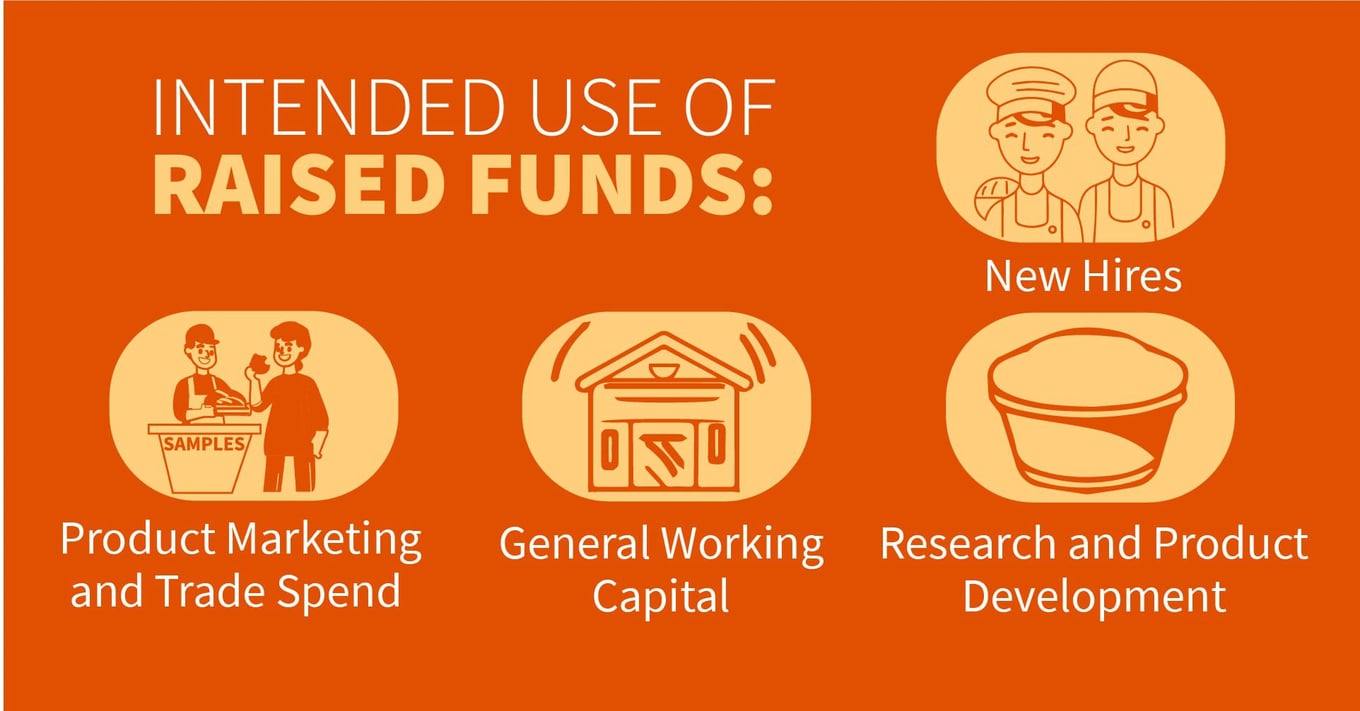 We are raising capital to scale into the new grocery retail stores in our forecast, and to develop future product offerings like pizza, buns and bagels with the same quality and excellent taste as our breads.
We intend to use the funds raised in the following way:
New Product Marketing and Trade Spend
Research and Product Development
General Working Capital
New Hires
TRISTAUN LECLAIRE
Founder & CEO
Meet the family who brought the pinnacle of natural foods to our tables!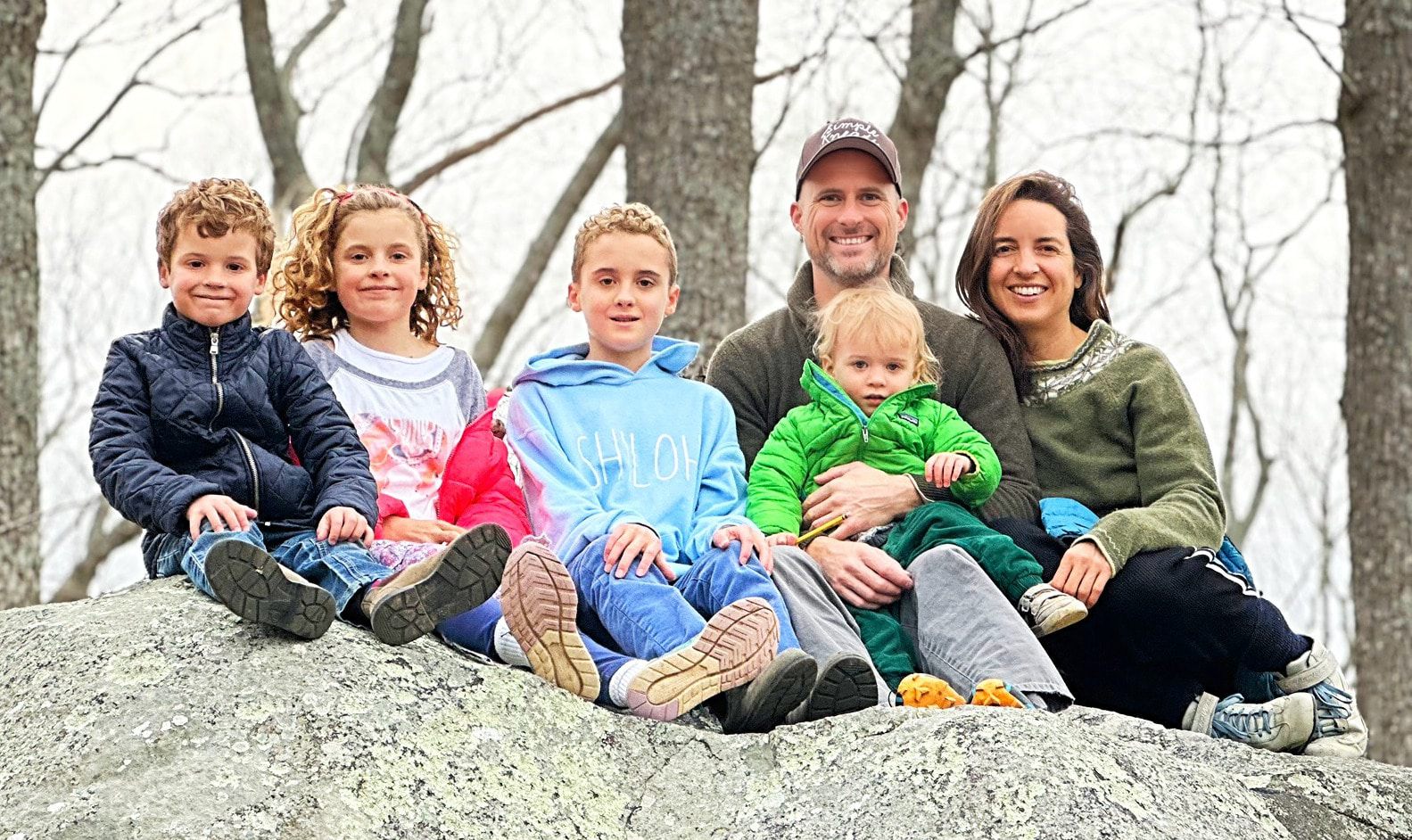 Simple Kneads is the first gluten-free bread company to pioneer a 100% plant-based, certified organic, gluten-free, true sourdough bread. It is one of the most nutritious breads on the market.
Our philosophy and mission resonate with thousands of health practitioners and tens of thousands of customers nationwide because we care first and foremost about human health and taking care of our bodies. We promote a plant-based lifestyle, and our desire is to bring our knowledge of health and longevity, to the world.