We intend to Dominate the estimated $8-30 Trillion (Citi Est) Metaverse space with the solutions we have tested over the past 18 years in our three earlier Metaverse generations.
Our experience is unequalled. Having seen how the Web itself consolidated all the offerings under one uniform system of Browsers, we have already slayed the likes of Google (Lively) and Sony (@Home), and now we are poised to slay Meta (Facebook's Horizon Worlds), Decentraland and the Sandbox to become the single platform upon which the next generation of the Internet is built.
The Next Generation Of The Internet Is Here
Utherverse, Inc. is unlike anyone else offering a "metaverse".
Utherverse, Inc. is a metaverse and software development company preparing the commercial launch of its 4th-generation metaverse, called the "Utherverse." The Utherverse is an immersive, interoperable, and synchronous virtual universe platform designed to change how we interact, work and play.
In addition to the Utherverse metaverse, the company is poised to offer its next-generation Metaverse-as-a-Service ("MaaS"). The Utherverse MaaS platform:
Best Of All Worlds
since 2003
Our technology stack is encased by one
of the deepest intellectual property portfolios in the space.
Utherverse Inc. has created a powerful set-up design, creator tools, and platform technologies that enable licensors to design and execute an unlimited range of offerings. We provide the virtual commerce rails and tools that enable members and creators to buy and sell products, services, and facilitate interoperability within physical and virtual ecosystems.
Our Place In The Metaverse
The metaverse can be described as consisting of four main components: content and experience; platforms; infrastructure and hardware; and enablers and payment mechanisms. Utherverse is active in three of these layers.
Metaverse as a Service (MaaS)
Metaverse-as-a-Service, or MaaS, can simply be described as an enterprise solution that will enable businesses to penetrate the Metaverse with their own virtual worlds for a variety of use cases that span from entertainment and gaming to business, finance, education, and more.
Backed by a deep portfolio of know-how and intellectual property both directly owned and under perpetual licensing arrangements, Utherverse Inc. has created a powerful set-up design and creator tools and platform technologies from Utherverse curated calendars to search engines to the XAEON™ browser that enable licensors to design and execute an unlimited range of offerings.
Xaeon Browser
Utherverse is creating a new layer of the Internet that sits on top of the flat World Wide Web layer.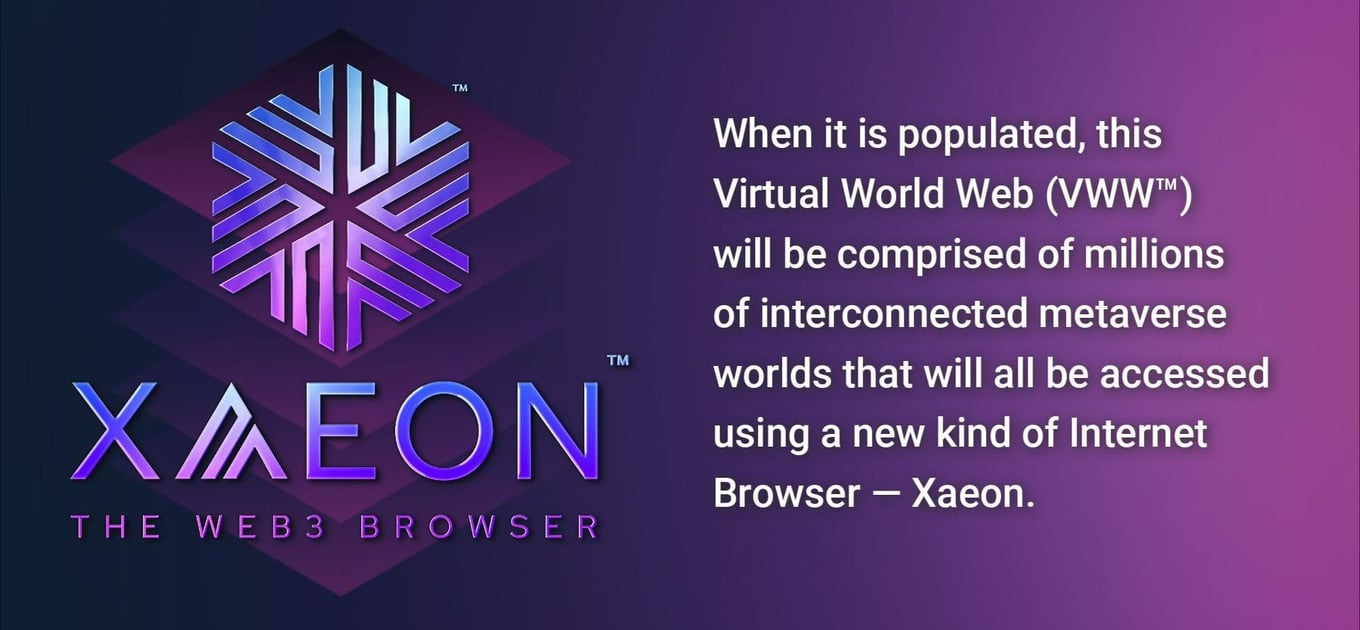 With Xaeon, all metaverse users can quickly and easily search millions of metaverse worlds, Landmark their favorite places and teleport directly to events.
For Utherverse, Xaeon lets us:
Take Google's place and become the dominant Metaverse Search Engine
Sell unlimited Virtual Land Domain Names and DNS services
Become a major new competitor in the Web Browser space
FNFT (Functional NFT's)
FNFTs are more than flat profile pics, JPEGs or artwork. They are dynamic tokens that represent goods with utility and have function in the Utherverse.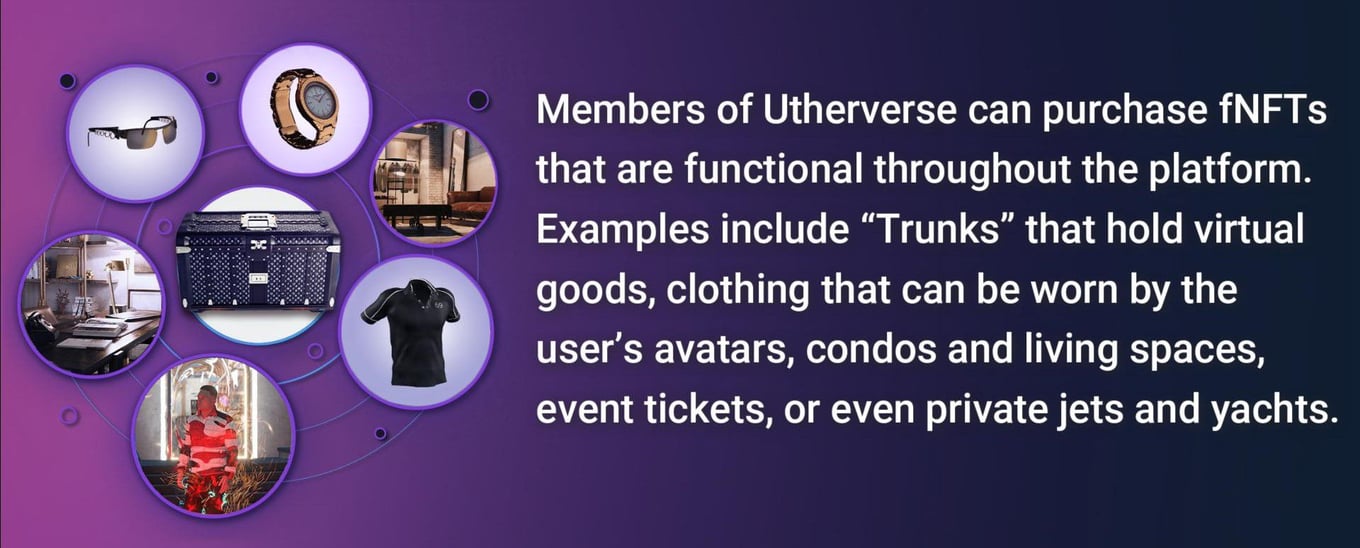 Pay-to-access options enable monetization for exclusive and premium offerings (items, tiers and tools, one-time events or entire worlds). Pricing structures are designed to complement the associated user experience.
Uther Coin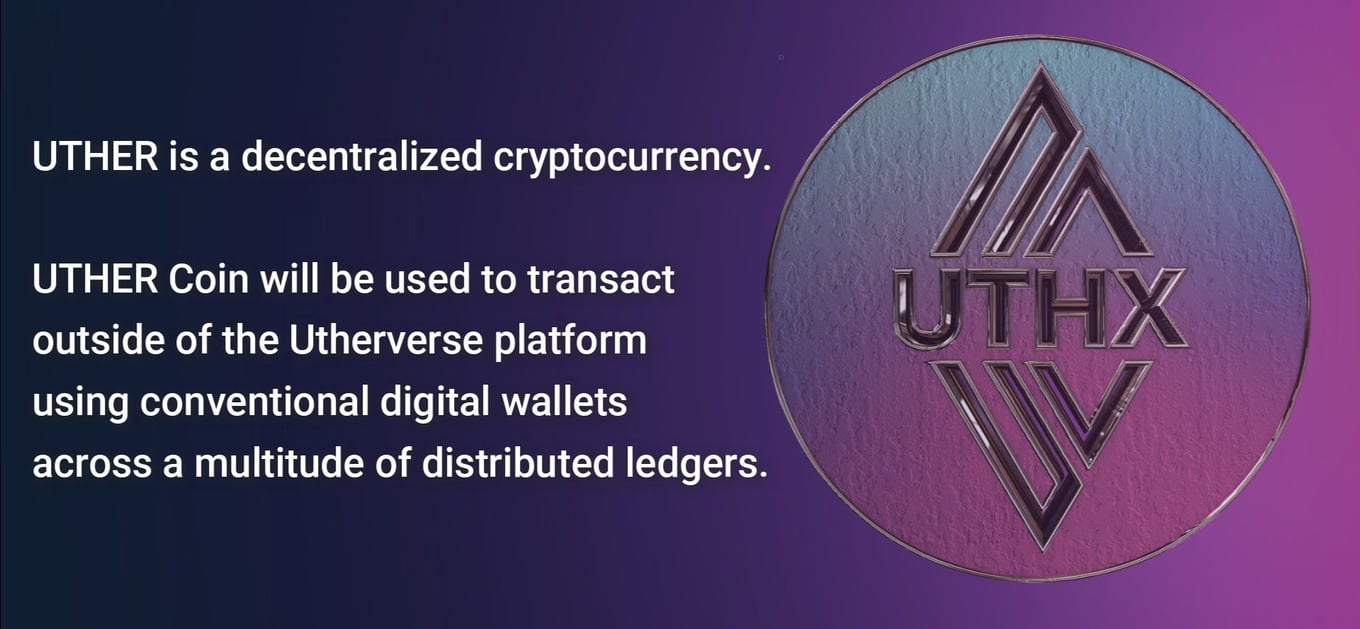 wUTHER (In-World Exchange Token)
The Company is creating a "World UTHER token" that members and stakeholders can transact with that doesn't touch the blockchain. All wUther transactions take place with registered members in a system-to-system transfer. When a holder seeks to move the wUTHER currency to an externally usable wallet, wUTHER is converted on a 1:1 basis into UTHER with a transaction fee.
$77M Revenue To Date
4th-Gen Beta Launch In September 2023
Since it's inception, the company has tested three prior generations of software, which have all been primitive by comparison to what the final XAEON product entails. These prior test versions have nevertheless proven highly commercially successful, having brought in in tens of millions of users, having been franchised out to 17 countries, and having generated more than $77 million in revenues through memberships, marketplaces, advertising and other metaverse-related revenue streams.
Partners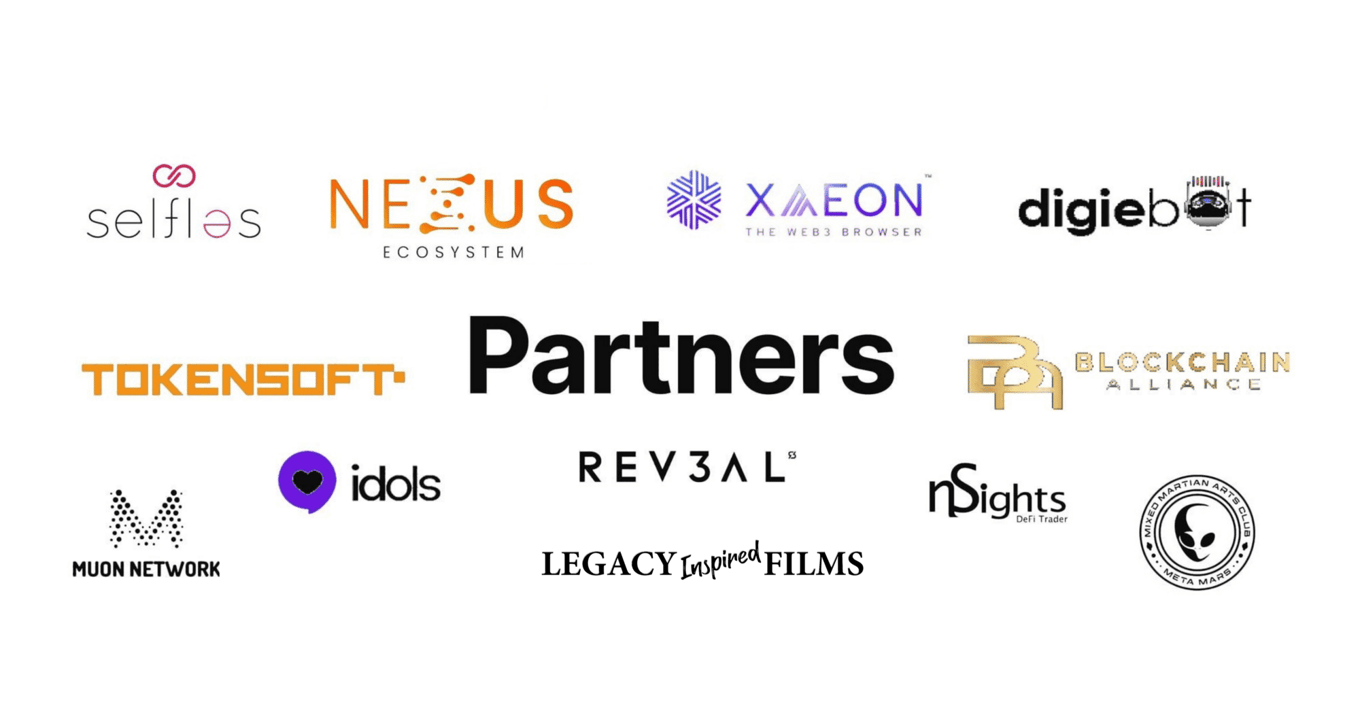 Press

With tens of millions of users of our prior Metaverse offerings, we know that the community is our main customer base. Our community is comprised of Internet users of all ages and regions.
The Company expects to be the dominant Metaverse in the near future, so if, as Gartner predicts, 25% of people will spend 1 hour per day in the metaverse by 2026, we expect our customer base to number in the hundreds of millions to more than a billion users in the coming years.
With more than 18 years operating live metaverses around the globe, it is safe to say that we have an enormous competitive advantage when it comes to knowing how to set up the business models and monetize the metaverse. These are not theoretical concepts, but battle tested and proven methods of generating revenue and profit, while growing a strong and dedicated community of lifetime members.
In addition to monthly VIP revenue, the Company has similarly substantial business models that involve: Advertising revenue, virtual land rental and sales revenue, Metaverse as a Service income, Search engine revenue, Metaverse Domain Name (mDNS registrar) revenue, Event Ticket sales income, Patent Royalty revenue, eCommerce commission revenue and a whole host of other proven revenue models that will be brought up as the software continues to be built-out and released in successive upgrades and patches to the XAEON browser.
The Metaverse Is Transforming E-Commerce And Online Communities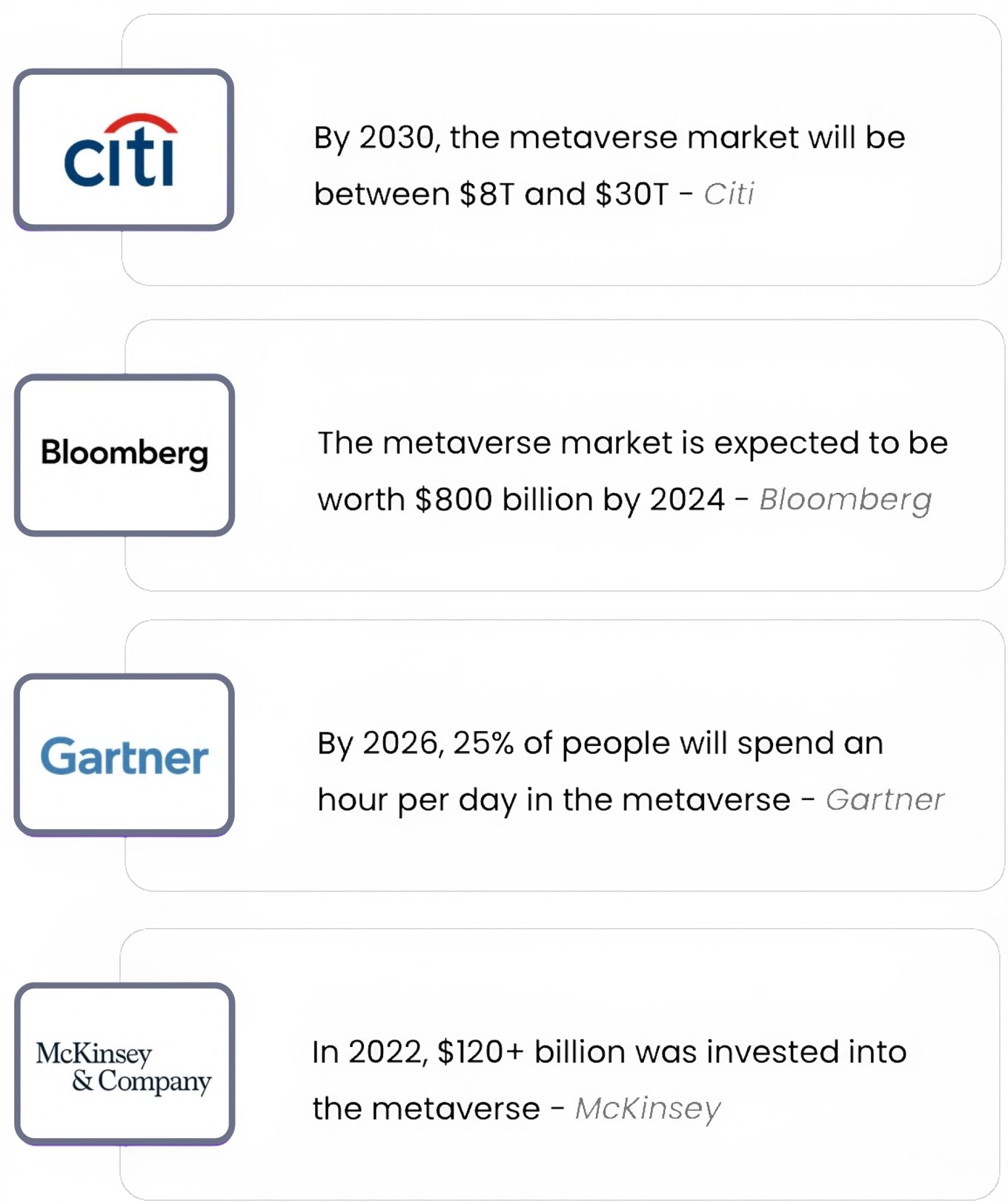 Our Patented Technology Is Years Ahead Of The Competition
The patents are proof of just how far into the future this team was thinking. This creativity, problem solving and forward planning should give everyone good reason to believe in this experienced team; and patents are just the tip of the iceberg. The team will always be years ahead of any competitor in our realistic and valuable vision of what's coming.
If our patents are infringed, our patent protection can potentially generate royalties or judgements if necessary.
Plan/Growth/Timeline
Utherverse has massive depth of experience and talent in the marketing, sales and promotion with some of the most seasoned and successful marketing executives in the history of the internet.
After years of development, the XAEON browser will debut on September 26, 2023 in Closed Beta - which will be accessed by invitation only. The Beta will grow and test the limits of the software with 24-hour persistence and daily events, leading up to two major planned upgrade patches in January 2024 and April 2024, after which we will host a massive Virtual Convention for Web3.
Connected to the rollout, in phases, Utherverse will engage in a substantial advertising campaign across the Web, and bring in increasingly commanding events and performances.
Leveraging our extensive marketing experience, the company will also roll out a first-of-its-kind Affiliate Promotional Program, in which we will offer revenue sharing to anyone who brings in their followers, friends or fans. The revenue share will pay the referrer a portion of the monthly membership payments made by referred customers.
We intend to leverage our vision, our focus on innovation, the breadth of our metaverse and Web 3 technology solutions and expertise to extend our market leadership and continue to fuel our growth. Key elements of our growth strategy include:
There is no more life-changing and environmentally friendly technology than a true metaverse.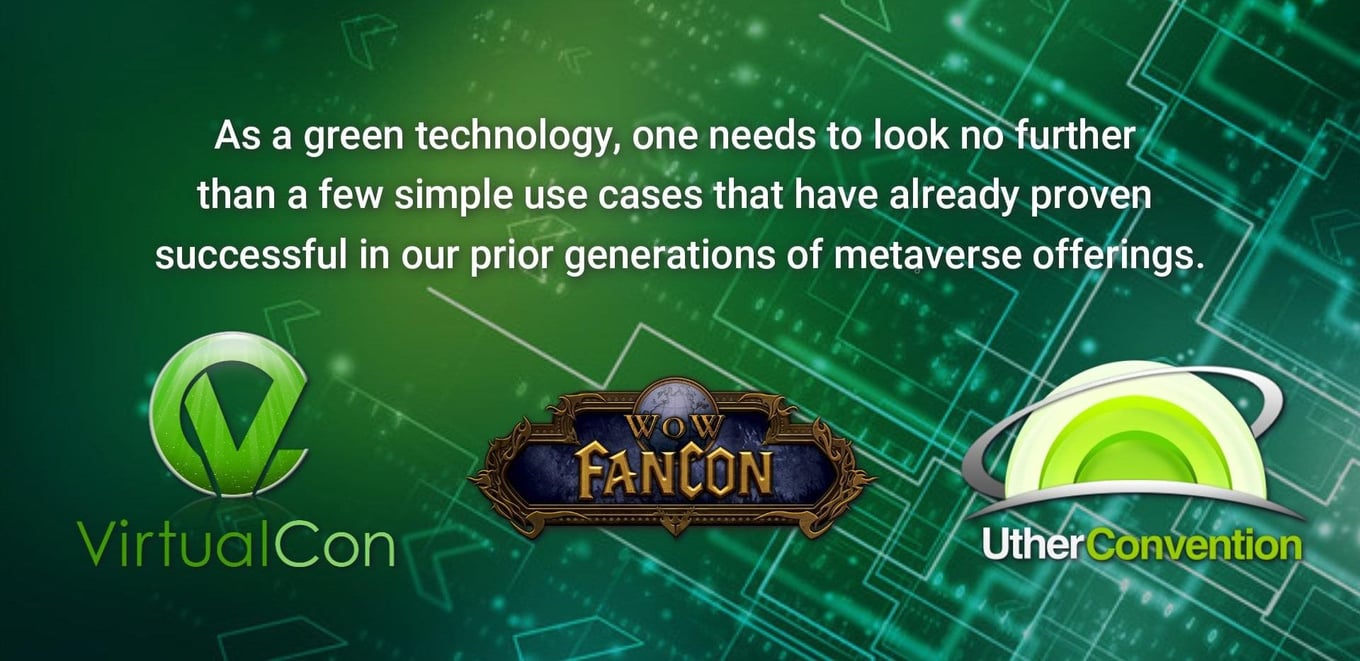 Trade shows and Conventions are common uses of our Classic Utherverse platform. Businesses construct trade show booths and halls using digital decorators who assemble what would be million-dollar booths consuming vast amounts of energy and materials, all for the cost of changing a few pixels in software.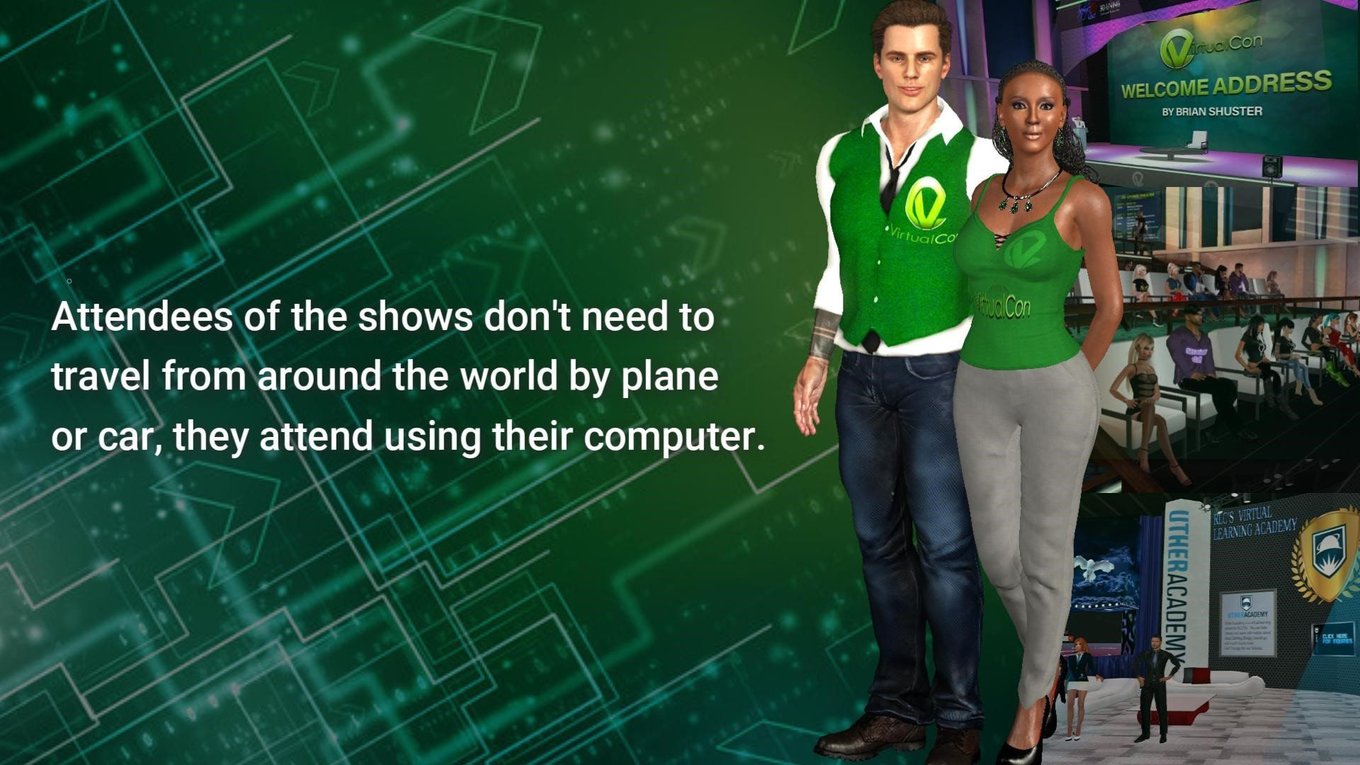 This drives attendance up, drives costs down and saves enormous natural resources - all while delivering an unparalleled experience that includes business and social events.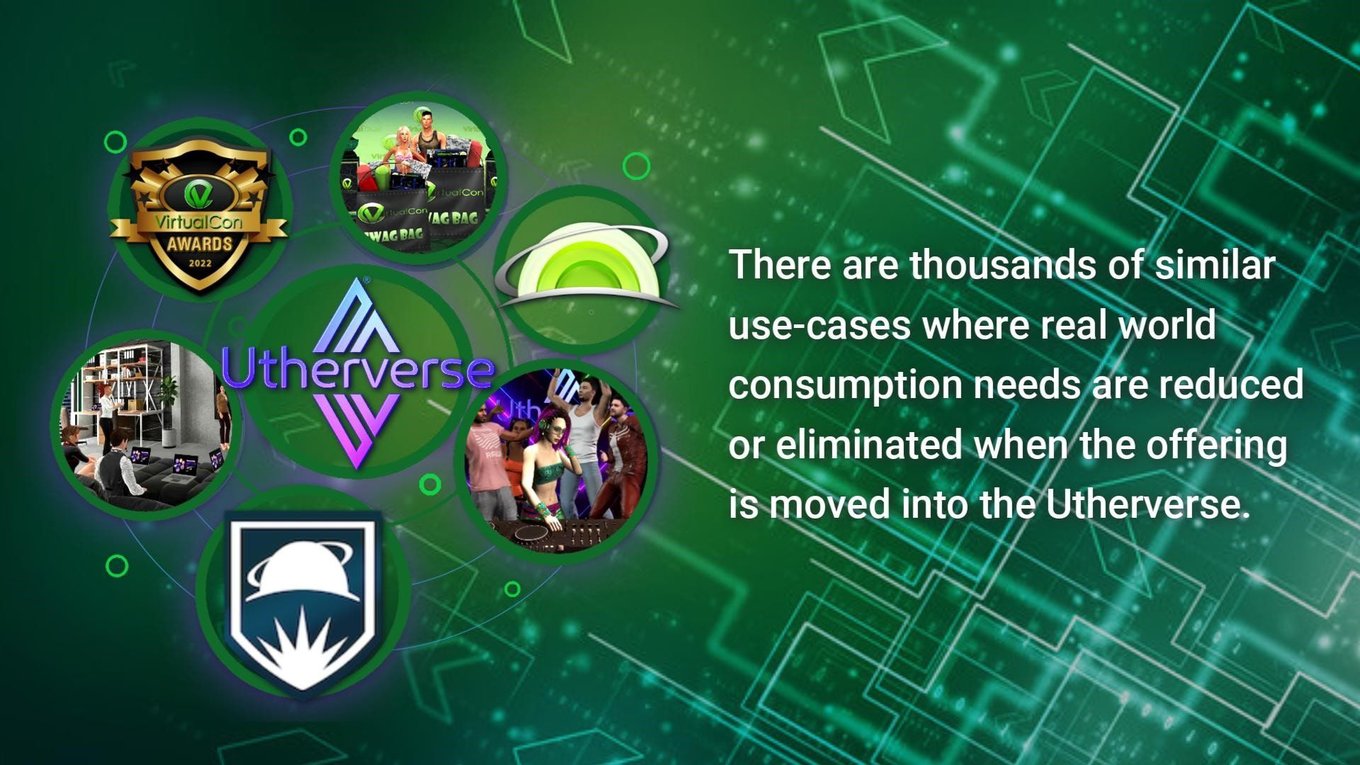 Utherverse has also been life-altering in a positive way for many users who have certain disabilities*. Being able to travel, attend events, engage in social activities and other offerings that are prohibitive for people like the immunocompromised, physically disabled or even those with social anxiety (to name just a small subset) has been liberating to whole communities.

The Company has primarily been funded by investment from our Founder, Brian Shuster. The company has spent more than $40 million in development of its Metaverse offerings.
More recently, outside investors have been permitted to invest, and the company has raised more than $3 million USD in the form of equity sales, convertible notes, and presale of digital assets for use in the Utherverse metaverse.
Brian Shuster
President, Chairman & Co Founder
Over 20 years of experience running metaverse companies.
Founder of the first Internet Advertising company.
More than 107 Tech Patents and counting.
The Utherverse metaverse will take the world by storm. It is in a league of its own as the Company launches its fourth generation platform to compete with first generation competitors.
As Facebook (Meta) spends tens of billions of dollars a year to develop a competing platform, the Utherverse platform is not only vastly superior already, but it is backed by more than 80 patents and the experience of decades of real world users and a staff with that real life experience that simply can't be bought for any amount of money.
This is an offering unlike any other. Utherverse has been a private company founded and run by one of the most successful intent pioneers. It has been operating for 20 years and is now positioning to take it's rightful place as a public company that will compete head-to-head with biggest tech companies in the world.
Utherverse is driven to become the undisputed leader in the next generation of the Internet which we hope will earn us the title as the most successful tech company in the history of the world.